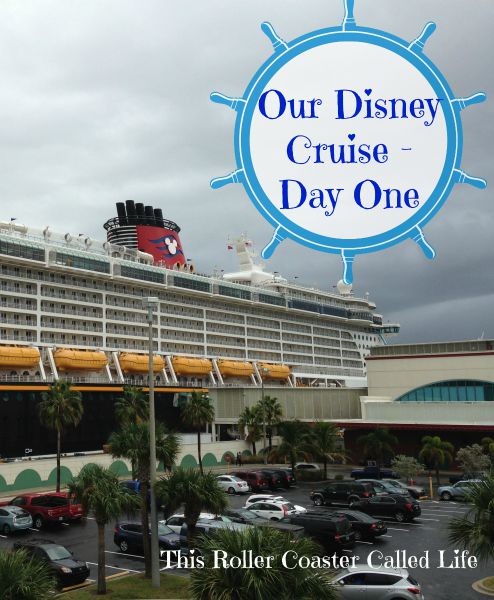 Our Disney Cruise – Day 1
Now if you've been here before, you may have seen Mom's series of posts about our December 2014 vacation. If not, you might want to look at them. In order of what we did when, our day at Downtown Disney, our vacation home, the trip to Clearwater Marine Aquarium, Ice at Gaylord Palms, our "take it easy" day, and a trip to SeaWorld. Well, I'm picking up where she left off, starting with the first day of our cruise!
We woke up extra early and drove like crazy to get to the terminal. Long before we got to the port, we could see the Dream along the horizon. It was even more beautiful up close. The building looked pretty small in comparison to the ship. Parking in the garage next to the terminal, we went through security and got all checked in.
At this time, everything was decorated for the holidays. I remember seeing Muppet's Christmas Carol playing on a group of TVs scattered in one area. There was also a character meet-and-greet in front of a scale model of the Disney Magic, the first Disney cruise ship. When we got in line, Captain Mickey was greeting people, but he switched places with…
…Sailor Goofy! Soon after the picture, boarding began. We got our Key to the World cards scanned, signing us onto the ship, and stood in line for a while before getting our picture taken.
After the first "on-board" picture (Yes, we had lots more pictures taken!), we walked up to the entrance. We were finally getting on the ship! There was a nice lady who asked for our last name, and she introduced us to a whole line of Cast Members who clapped as we walked into the gorgeous main atrium.
We stopped by the Port Adventures desk to double-check on a couple of shore excursions that we had booked. Afterwards, Marvel Boy insisted that we get him signed in for the Oceaneer Club and Lab. Since we were already on the same deck, we walked over to take a look.
The Oceaneer Club and Lab are the clubs for kids 3-12. I found they're very well done. The ceiling is lower for the kids, so I had to bend over to avoid scraping my head. There are four sections: Andy's Room (from the Toy Story movies), Monsters Academy (from Monsters Inc.), Pixie Hollow (from the Tinker Bell movies), and the Explorer Pod (from Finding Nemo). Now, for some pictures!
That last picture was taken near the Explorer Pod heading towards the Oceaneer Lab. I thought it was pretty cute.
Anyhoo, on to the lab! The Oceaneer Lab is the other half to the twin kid clubs. While the Oceaneer Club focused more on the Disney movies and younger kids, the Oceaneer Lab focused more on different activities and older kids. There's a Media Room, a Craft Studio, a Sound Studio, an Animator's Studio, and a section called the Wheelhouse. In a section called the Explorer's Room, there was a game where you could sail a Disney cruise ship or a barge. You could dock, undock, or race these ships. In the Wheelhouse, there was a different game where you could sail and fire cannons on a pirate ship like the ones from the Pirates of the Caribbean movies.
Now, you might be wondering, "Songbird, why did you put this picture in?" Well, let me explain. These are hand washing stations placed at the entrances/exits to both the Oceaneer Club and Lab. You put your hands in the machine, and it washes your hands for you. There's a little display on the front counting down how long until you can pull your hands out.
Afterwards, we walked up to Deck 11 AKA the pool deck for lunch. We ate by Flo's Cafe, a Cars-themed quick service restaurant. We had sandwiches and pizza while we watched everyone walking around. We saw quite a few Cast Members wandering around. They were all very friendly. When we finished eating, the rooms weren't accessible yet, so we decided to wander around. Somehow, we ended up outside the Walt Disney Theater.
The Walt Disney Theater is where all the stage shows and live performances are, well, performed. Occasionally, movies are played there; although, they're mainly shown at the Buena Vista Theater. Unfortunately, we weren't allowed to take pictures of the stage shows, so we don't have any pictures of the inside. That night, The Golden Mickeys was being preformed. I'll talk more about it in a minute.
After a while and a bit more wandering around, we were finally allowed into our home for the next few days AKA our stateroom. It was on the right (starboard) side of the boat and towards the front of the ship (the bow). This particular stateroom was spacious and well decorated. Maybe I should just tell you about it. But, then again, why tell you when I can show you? On to the pictures!
The couch in the picture above is able to transform into a twin bed, and another twin comes down from the ceiling. For this cruise, Marvel Boy slept on the top bunk, and I slept below him while Mom and Dad took the bed.
This stateroom was a category 8 stateroom, specifically 8A. 8A staterooms have two portholes instead of just the one that comes in the other category 8 staterooms. Marvel Boy and I loved how big the seating was. We could easily fit onto the seat the way he does in the picture.
From our portholes, we could see trucks arriving to stock the ship and getting her ready to shove off. Eventually, Marvel Boy wanted to go back to the Oceaneer Club and Lab, so we split up. Dad went with Marvel Boy, and Mom went with me to Vibe so I could get signed up.
Wait… I guess I should explain what Vibe is, shouldn't I? Vibe is the teen club, specifically for teens 14-17. If you're 18, you're considered an adult, so keep that in mind. Everything was very modern and surprisingly comfortable. The Cast Members were very friendly and fun to talk to. I stayed there until it was getting close to the time for the boat drill. Now, who wants to see some pictures?
Doesn't Vibe look neat? Now, look at that last picture again, taking notice of the weather. That was how it was for the entire cruise. It made for a few difficulties with one exception, but those will be in future posts.
After that was the boat drill. We went back to the room, saw a little safety video in our stateroom, and tried on the life jackets. The drill itself was fairly easy. We stood in rows at our assigned lifeboat stations and watched as a group of Cast Members demonstrated how to put on life jackets while explaining what to do if the ship was sinking. Luckily, we didn't have to put that knowledge to use. After that, it was time for the Sail Away party. We didn't really see it since the afore mentioned weather placed it inside the ship's main atrium. It's a little more crowded down there than up on the pool deck, so we decided to skip that part. Instead, we went and got some ice cream cones and watched as we sailed out of the port.
From there, we wandered down toward the shopping area and waited for the stores to open up, because, according to maritime law, stores must be closed when the ship is in port. Now from here, I have a funny story. Remember about the weather? Well, not only was it dreary and cold, the seas were also rough, and the boat rocked quite a bit. I had a little trouble walking half the time on that first day. It was a little better on the days that followed, but it still rocked a little bit. Now, keep in mind, all four of the Disney cruise ships have stabilizers, which means they can be really smooth on normal seas. I can't imagine it without stabilizers. And that's saying something.
→Time Skip brought to you by Tinker Bell's Pixie Dust←
After the shop walk-through, nothing much happened until later. We had the second of the two dinner seatings, so we saw the first showing of this night's Broadway-style stage show, The Golden Mickeys. We weren't allowed to take pictures, so I'll just have to describe it. It was kind-of like the Oscars, but by Disney characters and only for Disney movies. There were lots of song and dance numbers. Overall, it was a pretty good show. I'm looking forward to seeing it again.
Now, remember what I said above about the rough seas? Well, it testifies to how much these performers were used to dancing on boats. When we were watching the show, we could see the curtain in the background swinging, and yet, not one single preformed stumbled or did a wrong dance move, not even ones like Mickey!
After the show, we went to our first dinner on ship at "Royal Palace". This dining room is based off of most of the Disney Princess movies, notably Snow White and the Seven Dwarfs, Cinderella (the animated version), Sleeping Beauty, and Beauty and the Beast (again, the animated version). I'll show you guys some more pictures in my post about the third day of our first cruise. But, I would like to show you this little treat.
Doesn't this look mouth-watering? If we wanted to, we could have Mickey Bars delivered straight to our stateroom. Yum. Mickey Bars….
→Time Skip brought to you by Donald Duck's Temper Tantrum←
Oh, sorry. Where was I? Right, dinner. Well, after the wonderful meal, I headed back to Vibe for some games. Here I must confess that we didn't get to bed until about midnight. By the time we had returned to our room, it was ready for sleeping.
This is what the couch looks like after turndown. It was pretty comfy to sleep in, although I may have joked at least once about sleeping in those window seats…
Each night of our cruise, we found a towel animal sitting on our bed after turndown. On our first night, our towel animal was a penguin. Doesn't it look cute?
Well, that's pretty much the first day of our cruise! Next, we'll be traveling to Nassau in the sunny Bahamas! Some highlights include the Aquaduck, Flubber, and witty tour guides! Have any of you ever been on a Disney cruise? If so, what was your favorite part, and, if not, is there a part of a cruise that sounds like fun?