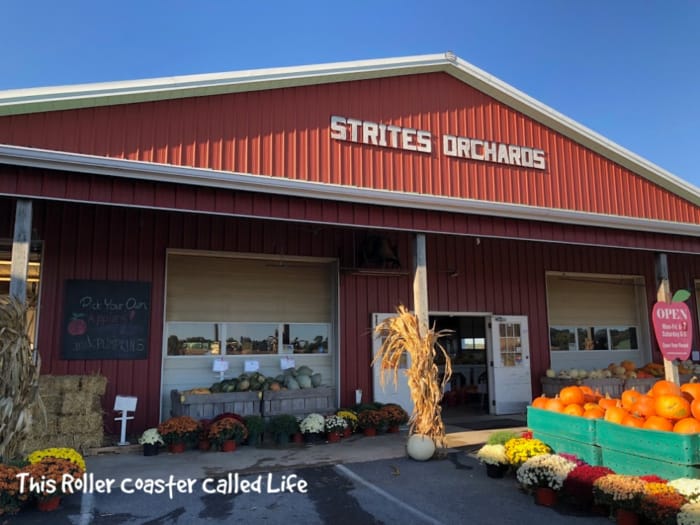 Strites Orchard Field Trip
Our homeschool co-op recently went on a field trip to a local orchard, Strites Orchard, to find out some of what goes into maintaining the apple orchard, as well as, how the apple cider is made and how the orchard market stores the apples to sell all year long.
Homeschool field trips really don't have to be fancy or expensive. They just have to provide a learning experience and be fun, which this trip to the orchard provided.
Strites Orchard Market
While we waited for the others in our group to arrive, my son and I walked into the market to see what all they had to offer. We saw a large variety of fruit and vegetables. There was also honey and jams available for purchase. Not to mention, the baked goods for sale, too.
Apple Trees
After we assembled our group, we headed across the road and down the path to the orchard. On our way, we passed a beautiful field of sunflowers. We soon reached the apple trees and saw the fragrant red apples. As our guide talked about how the trees are maintained and how the apples are picked, I walked around gazing at the pristine apples at the top of the trees.
Apple Storage
As I mentioned, this market stays open year round. Obviously, apples don't grow on the trees year round. How do they do it? We headed into the gigantic storage refrigerated unit. As you can see above, the bins that hold the apples are HUGE!
Everywhere one looks in this refrigerated storage unit is filled with crates of apples. All kinds of apples. Bins stacked to the ceiling. Apples for the winter to come.
Preparing Apples for Sale
When the bins of apples come in from the field, they are dumped on a conveyor line and sent through some grooved, metal, rotating cylinders to get all polished up.
Then, the apples are inspected. Apples that aren't in perfect shape for sale are put in a bin to be made into apple cider. And talk about apple cider…
The tour ended with a small taste of their apple cider. We loved the apple cider so much that we took a gallon home with us! Of course, we also took home some apples and some honey. While it wasn't an expensive field trip ($5 per child), we learned a lot and have a new appreciation for fresh apples from the orchard!
Strites Orchard is in the Harrisburg, PA area. It is easy to find and has a large variety of local produce to purchase.