Our Disney Cruise – At Sea Days
Hello to you all! My goodness, the cruise is half over already! Well, as they say, time flies when you're having fun. To review, this is part of our Florida vacation from 2014. If you are just joining us, you might want to read the first and second days of our cruise before you get to reading this post. Now, I'm going to try to cram the last three days into one post. Hang on tight!
First up, day 3! While we were having a small breakfast, the captain came over the intercom in our staterooms. He apologized for intruding, but he had some very bad news. Remember the extra finicky weather? Well, the seas were so rough that day that we were having trouble docking at Castaway Cay. The Captain said that they would try one more time later that day, but we didn't have high hopes. While we were waiting for that result, we went to eat something more substantial at Royal Palace. Now, I did promise on Day 1 that I would show you guys pictures, didn't I? Well, here they are!
Isn't it pretty? A little while after we finished eating, the captain tried to get into port one more time. Needless to say, that it didn't work. However, he said that a new Personal Navigator would be out shortly, which it was. I was very impressed with how fast they got a new lineup out. So, instead of having a day at Castaway Cay, we had two days at sea! I can't exactically complain either way.
→Time Skip brought to you by Jack Sparrow's Hat←
Now, on to one of my personal favorite parts – Pirate Night! It all started with a deck party where we all learned the ins and outs of being part of Mickey's pirate crew. But, Captain Hook decided to crash the party, so we had to put all our recently learned pirate know-how to get the ship back. Just a little tip. If you go into iTunes and search "Pirates of the Caribbean Swashbuckling Sea Songs," you'll be able to find a few of the songs I heard playing around the ship. The first song in the album, "Away, Away, Away," was sung during the deck party. It's pretty catchy. Would you like to see some pictures? I'd like to show you some!
After that, it was time for supper. We ate at Animator's Palate again, but tonight, it was all pirate-y. Not sure if that was a word, but I'm going with it. There was still drawings on the walls, but they were of the Pirates of the Caribbean ride and movies. All the servers were dressed in pirate garb, and we had a special menu. After supper, it was time for fireworks! Now, before I continue, how many of you know about Captain Jack Sparrow?
Mom and I stayed up on deck while Marvel Boy and Dad went back to the room. Before the fireworks started, there was a funny little show involving Jack and a gauntlet somewhat similar to the Infinity Gauntlet. No, you can't ask how I know about that. At the end, Jack's gauntlet started the fireworks show complete with pirate music and a pirate flag on the Funnel-Vision screen. After the fireworks ended, the deck turned into Club Pirate. Think a big loud pirate-themed dance party. We scurried back to our room. Mom went back up later to grab some desserts from the pirate buffet at Cabanas. In the meantime, Pirates of the Caribbean: The Curse of the Black Pearl was playing on the FunnelVision.
Tonight's towel animal was a monkey. We found him hanging from the ceiling on a hanger from our closet with two chocolate coins as eyes. He was so cute!
→Time Skip brought to you by Olaf's Warm Hugs←
Anyways, on to day 4! Today was our planned "at sea" day, so we had a few things planned already. We started things off with a princess meet-and-greet. When the princesses arrived, they gracefully walked down the main staircase as a medley of princess songs were played on the piano. The princesses we saw were Tiana, Cinderella, Ariel, Rapunzel, and Belle. Keep in mind that the lineup may change.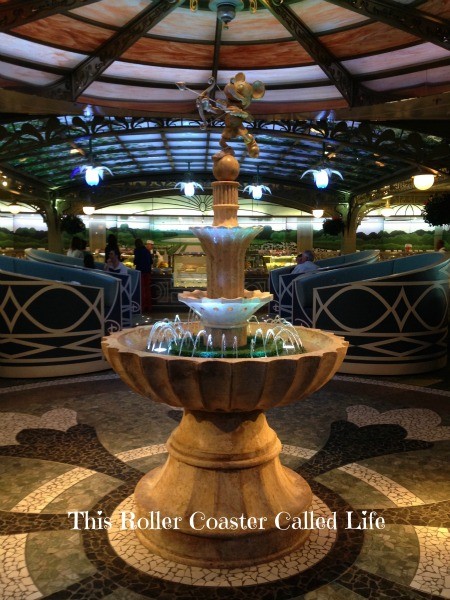 After that, we had breakfast at Enchanted Garden, interestingly enough, the same place where we would be eating that night. Enchanted Garden is themed as a beautiful conservatory in France. Going along with that theme, the lighting changes with the time of day. There are all sorts of interesting touches, from the fountain right in the middle of the dining room to the flower lights that "bloom" as the sun sets.
We did lots of other thing that day, including:
Making our own coasters in the adult areas
Mom and Marvel Boy taking a quick spin on Aquaduck
Seeing Big Hero 6 (and loving it!)
Getting an autograph (or two) from the Captain
Taking a peek at the atrium dance party (which was filled to the gills)(DON'T GO!!!!)
And probably some other things I forgot about
Tonight's Broadway show was Disney's Believe, the story of Dr. Cornelius Greenaway and his daughter, Sophia. It's Sophia birthday, but her father is too busy to play with her. This all changes when the Genie shows up. Lots of characters from different movies (like Cinderella, Peter Pan, Mary Poppins, Beauty and the Beast, The Lion King, and The Princess and the Frog) show up to help the good doctor believe in magic. This was AMAZING. One time, Merlin showed up and started "Higitus Figitus" while making a big mess. Dr. Greenaway's reactions to all of this is funny BEYOND BELIEF! Fun Fact: This show needs more than 300 costumes and 200 wigs, 6 massive digital projectors, and nearly 200 moving pieces of scenery. (Note: I got that from the official DCL website)
Tonight's towel animal was a manta ray. The sad part? WE HAD TO LEAVE THE NEXT DAY!!!!!!!!
→Time Skip brought to you by The DreamPort←
(You will have forever earned my respect if you can figure out that reference)
Next morning was hectic. We had to get up at who-knows-how-early in the morning, so we could eat breakfast. Note: the time that you eat dinner affects the time you eat breakfast debarkation morning. You have been warned… We were one of the last groups off the ship because of a bug Marvel Boy caught. To this day, we think he caught it while playing in the kid's clubs. The awesome hand washing stations are there for a reason. I'll stop ranting now.
Anyways, guess what? We're going on a second cruise! I'll be good and take notes on what we did when, so (hopefully) you won't get as many time skips, and I'll be taking LOTS of pictures! This is after the Dream's first major dry dock, so there will be lots to report on! Anyways, Hasta la Vista! Stay tuned for more fun!