Our Disney Cruise – Day 2
Hello to everybody out there in the blogging world! I'm back with more Disney Cruise Line fun. Today, we shall be looking at our second day onboard the Disney Dream! For those of you just joining us, I would suggest going back to our first day on the Dream, which can be found right here. Now, on this particular day, we didn't stay on the ship. Instead, we got off in Nassau!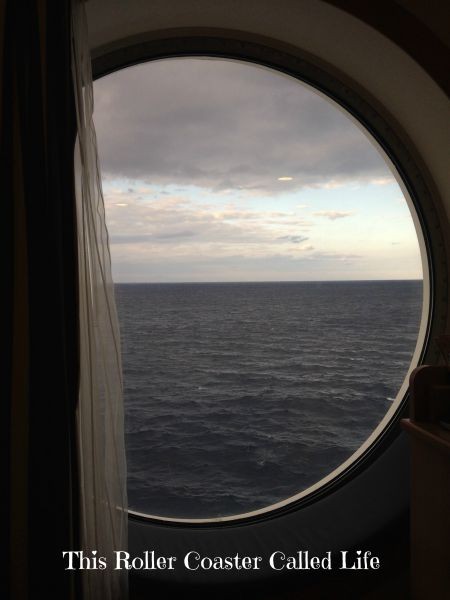 We woke, not to the shore, but to the sea. We were still sailing towards the Bahamas. The sea wasn't nearly as rough as it was yesterday; although, it still rocked the boat a little bit. We had ordered room service for breakfast from the night before. As we were eating breakfast, I spotted a rainbow that we were sailing away from! Mom managed to get a couple of pictures, and I happen to have one for you!
Around this time, Mom went up on deck to watch the ship pull into port, while Dad, Marvel Boy, and I stayed in the room. Have you ever been in a stateroom while the ship makes a 180 degree turn? Well, to dock in the port, the Dream had to head forwards towards the dock, then turn around and back in. It felt like I was on a spinning table. One of the cool things was that we could see the view from the bridge on our stateroom TV. Once the ship was docked, we got off for a harbor cruise that we booked earlier. The tour guide was pretty funny. As we headed back towards the port, Mom got a few good shots of the ship. Would you like to see them?
We didn't stay on land for very long. This was our "good weather day," which meant it was hot. Marvel Boy doesn't like heat very much, so after a bit of shopping by the port (and some complaining about the heat), we made our way back onto the ship for some "cooling off" fun. That's right, we went swimming! The Dream has three pools (one each for families, little kids, and adults, as well as a water play area for little, little kids), and one Aquaduck.
How about some fun facts? The Aquaduck was the first water coaster at sea when it debuted on the Disney Dream. It was so popular that it was added to the Disney Fantasy. Now, some people say that the slide on the Disney Magic is the Aquaduck. That is not true. The slide on the Magic is the Aquadunk, not the Aquaduck. But, I won't get into that kettle of fish. Back to the Aquaduck. The slide is 765 feet long and drops down 4 decks. It goes around the perimeter of the ship, through the forward funnel (and right past Edge, the tween club), and out over the edge of the ship. The ride was pretty smooth and I liked it a lot. There was just one thing that bugged me. There are two dips, which require jets to push you back up. On our cruise, the water coming out these jets seemed freezing cold. Marvel Boy and I rode it at least three times.
→Time Skip brought to you by Mickey's Magical Brooms←
After lunch and showers came the event that Marvel Boy had been looking forward to all day. Super Sloppy Science with Professor Make 'O Mess. The title says it all. Today's messy experiment was Flubber, like from the movie of the same title (which got the idea from The Absent Minded Professor). Mom wrote a post about that experience, with a recipe to make your own Flubber. You can read it here. While he did that, I went to Vibe, wandered around the ship, and had ice cream from the soft-serve, get-your-own station up on the pool deck. Yes, I ate the ice cream while walking around the ship without anyone stopping me, and, yes, it was wonderful.
→Time Skip brought to you by Goofy's Holler←
Now, on to dinner! This night, we ate at Animator's Palate. This restaurant is themed like an animator's studio, complete with maquettes and character sketches on the walls and shelves. We were sitting near the entrance, at a oval-shaped table, with four other table-mates. Before I get into any more details, how about some pictures?
A little while after we were seated, Crush appeared on some screens and started popping all over the place talking to people. He appeared next to our table and started talking with us. He said that our table was his favorite table (because it was shaped like a surfboard), and he gave us nicknames. When Crush was not around, there were games on the screen, like 'What Picture are the Moonfish Making?" It was really interesting seeing things going on with multiple screens all around us.
I have to admit that I don't remember much of what happened after supper. Our room was all ready for sleeping when we got back. Tonight's towel animal was a frog. It even had a small piece of chocolate in its "mouth".
Well, that wraps up day 2 of our Disney cruise! Next time, we'll be going to Castaway Cay! Pirates sail these waters, matey! Have you been to Nassau on a cruise? What did you do while you were there? Did you return to the ship early, or did you stay on land for as long as possible?