Hands-On Science Fun with Q-Ba-Maze 2.0 Stunts
My son LOVES to build things! It seems like there is always building blocks of all sorts out in our living room. I know some moms might cringe at that, but we embrace it and move on. It helps Marvel Boy use his imagination and keep busy. A while back, we received the Q-Ba-Maze 2.0 Stunts set. Both kids (and Don) looked forward to putting this together.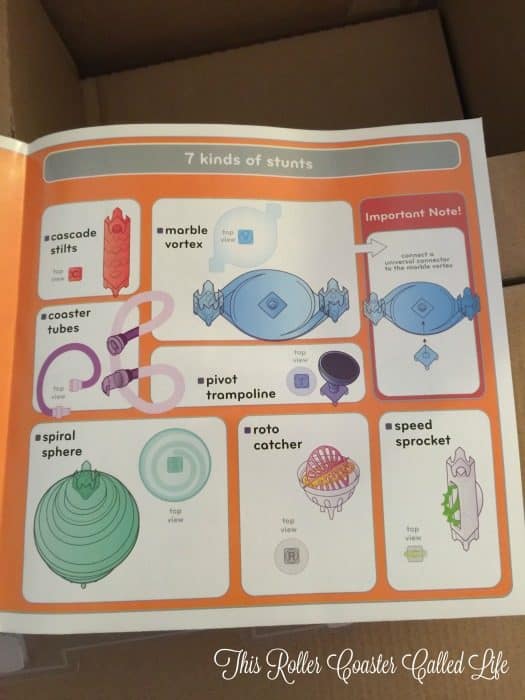 They started out by checking out the instruction booklet and seeing what stunts were included. The instructions were clear and easy to understand.
As you can see, the pieces are colorful. This made the project all the more fun and easy to put together.
There were a lot of pieces, but that was no problem. They were both eager to build and see what this set could do.
It was a nice set for the kids to work on together. I think it might have been a little daunting the first time with only one person as it helped to have a partner to help hold towering pieces. The pieces fit together well, but the did have to be pressed together tighter occasionally. Of course, we wanted to do so carefully as to not break the pieces. We have put this together two or three times now, and none of the pieces have broken.
Even Don got in on the action. It was truly a family homeschool activity. There is even a lesson plan that goes with this set. The lesson plan is available as a download from the bottom of the set information page.
It wasn't long before they had the set all together and ready to see what happens. Would you like to see how this work? Take a look at the video below.
Doesn't that look like fun?
Q-Ba-Maze 2.0 Stunts is recommended for ages 6 and up. The lesson that goes along with this set is geared toward grades 3-5. Besides the big set, we also received a small box of marble catchers, so we didn't have to chase marbles under the couch. I was very thankful for those catchers!
We thought this was a lot of great learning fun! This would be good for homeschool, homeschool co-op, or a school setting.
Disclosure: We received the above item free of charge for the purpose of this review. All opinions are 100% ours.