Welcome to this month's Blogorail Blue Loop. Today we are sharing some of our favorite Disney apps.
---
Best Disney App – Disney Cruise Line Navigator
I must admit that I have a LOT of Disney – Themed apps on my iPhone. One of my favorite is the Disney Cruise Line Navigator.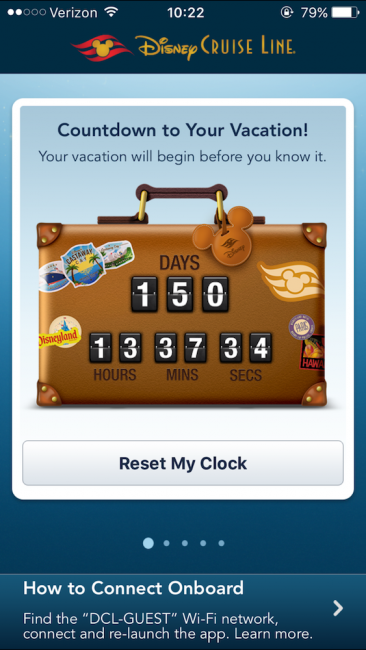 The Disney Cruise Line app only gives a tiny bit of information until you step foot on the cruise ship. It tells you briefly what you will have access to, like dining information, activities, and a deck plans. While those of us who have cruised with the app know how much information is packed into this little app, it is hard to know what is there until you are aboard. However, by that point, you have so much else to look at and do, and now, you have a new app to peruse, too.
So, let's pretend our vacation countdown is over, and it is time to board the Disney Dream in Port Canaveral!
After waiting for our boarding number to be called, we will head through the Mickey head, get our picture taken, and be announced as we walk onto the ship. After we board the ship, we should be able to open the app and find the information we need. WARNING – Make sure to use the ship's wifi (free for use of the app) and turn your phone to airplane mode! You don't want to risk some pretty hefty phone charges…
Let's check out what all the Disney Cruise Line Navigator app has to offer!
So, let's start at the very beginning of the list with "Onboard Chat". Can I just say that this is the BEST part of the app? It is like texting but Disney-style, and it doesn't carry the hefty charges that "real" texting would incur. We were able to keep up with the kids, and they knew where and when we were to meet up. Songbird says she really liked all the Disney emojis included in the Onboard Chat section.
There are just so many activities onboard a Disney cruise, and it is so nice to be able to filter the activities by age.
However, it was just as easy to look at all activities at once. I found it easier to peruse the offerings on the app, rather than on the paper version of the Personal Navigator.
The app also displayed the show of the night with the different times it was offered. We had late seating for dinner, so we went to the early show.
Do your kids want to see some characters? This app will keep you up-to-date on all the character appearances, and there are quite a few! We personally found the Character Dance Party to be over-crowded, but it sure was nice to know when the characters in other locations were changing out. As long as we were in line by the end time listed for the character greeting, we were allowed to meet the character. I sure hope they don't change that!
Cruise ships are known for their overabundance of food, and Disney Cruise Line is no different. The dining tab is broken down by meal type, room service, and late night snacks.
Our first cruise, we didn't mess too much with ordering room service; however, on our last cruise, we found it to be a great asset! We ordered light breakfast in the room a couple of days, and we ordered a late lunch on our Castaway Cay day. It's a great treat to have it delivered right to the room! Of course, if you ask Songbird, she'd rather go to Eye Scream Treats and get a cone to eat as she walked around the ship.
Of course, there is also the current drink of the day listed in the app if you are interested in imbibing. I like that they offer a non-alcoholic option.
This app even works as a weather forecast. It sure is nice to know what to expect before heading into port. It wouldn't be very good to head out on an adventure without an umbrella, only to have it rain on you later.
But sadly, all good things must come to an end… The Disney Cruise Line Navigator app doesn't leave you hanging on the last morning. It makes sure you know where you need to go and what you need to take with you.
As you can see, the Disney Cruise Line Navigator app is certainly a handy tool to have to guide you through just about every aspect and choice of your cruise. While there isn't much to see on the app before your Disney cruise, it is filled to the brim with great information while on your Disney cruise ship! This app is available for Android and Apple devices.
For more Disney apps,
check out the other great posts from the Blogorail!
---
Here is the map of our Magical Blogorail Blue | Best Disney Apps" at Disney Loop: