Updated for you on
Samson at Sight & Sound Theatre
There are two Sight & Sound Theatres: One is in Branson, Missouri, and the other is in Lancaster County, Pennsylvania. Branson, MO is currently showing Moses, and Lancaster County, PA is showing their new production of Samson. It looks like Lancaster County, PA is getting Jonah in 2017.
Sight & Sound Theatre is celebrating 40 years this year, and it is fitting that they would debut their newest production right here in Lancaster County where Sight & Sound began.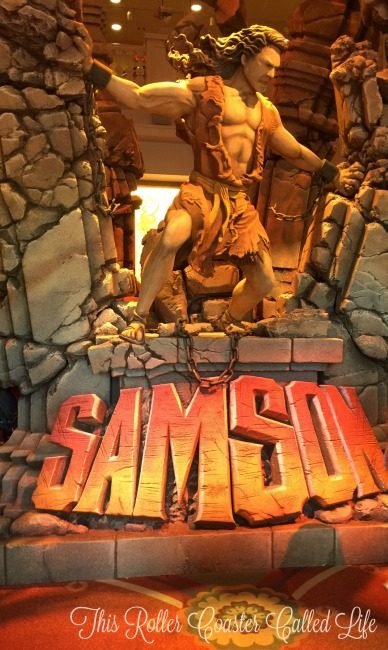 Recently, we saw Samson at Sight & Sound Theatre in Lancaster County, Pennsylvania. We have seen all the Sight & Sound Theatre shows that are available on DVD, and I think Samson tops them all (although Noah is a pretty close second)!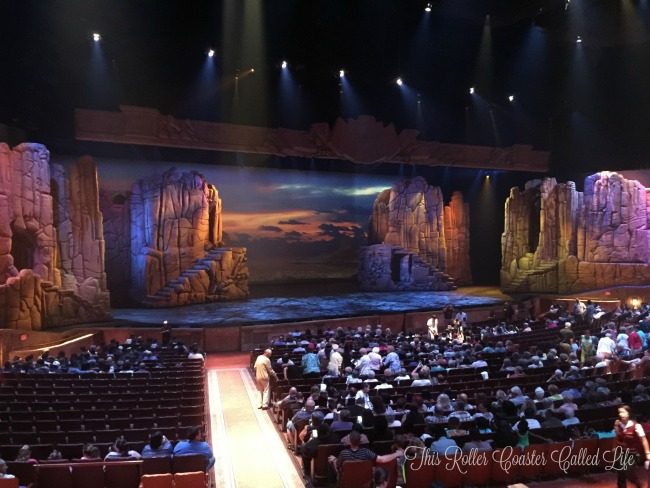 As you can see, the stage for Samson covers a large area! It extends up both sides of the theater. There truly is a lot of action in the Sight & Sound Theatre plays! We have sat in seats on the floor level previously, and this time, we sat in the upper level. Personally, we thought the seats higher up were better as we were able to see more of the action on the sides better.
As in other Sight & Sound productions, it was announced that literary license was taken in this production, and that would make a lot of sense. The story in the Bible would be difficult to stretch out into a lengthy play without some literary license. While there was definitely literary license, it was woven into the story so well that it all flowed together seamlessly.
Sight & Sound Theatres' say that they bring the Bible to life, and they certainly do that. The way the action is laid out, the audience feels as if they are a part of it. The actors and animals (yes, LIVE animals in many productions) move about the stage and the aisles of the theater. The interaction of the characters is terrific, and the singing is so beautiful! It's like the Bible is reading itself to you.
Just a hint… If you are looking for a yummy treat to eat while watching Samson, check out the glazed almonds. They are SO good! We didn't get ours to eat there but picked some up to take home to have later. I wanted to focus my attention on the play.
We really enjoyed seeing Sight & Sound Theatre's production of Samson! Our eyes were riveted to the stage, and it seemed like nothing else was going on during the performance other than the story of Samson. If you would like to see Samson, you can purchase tickets online. Just remember that Samson only runs until December 31, 2016.
NOTE: Before the play started, it was mentioned that the end of the play would be like the end of the Biblical story, action packed. If you know the story of Samson, at the end of the story, Samson literally brought the house down in what must have been a horrific scene in person. Sight & Sound Theatre strives to make a realistic representation of the real events listed in the Bible. After seeing the end of Samson, I want to stress talking to your child, especially if he or she has Sensory Processing Disorder or is on the Autism Spectrum. This scene is extremely intense, and if your child likes to wear ear protection or has a security friend, it might be a good idea to bring them along. I don't remember much of a reminder after intermission, so it might be a good idea to remind your child before the play resumes after intermission that an intense scene will happen at the end of the play.
Disclosure: My family received free admission to see Samson at the Sight & Sound Theatre in Lancaster County, PA. All opinions are our own.