Welcome to this month's Blogorail Teal loop. Today we are sharing easy Disney snack recipes.
---
Frozen Pineapple Whip aka Dole Whip
My daughter will tell you that my favorite treat at Walt Disney World AND Disneyland is the Dole Whip, and yes, that is true. While I wish we could live closer in order to pop over for a Dole Whip whenever I want one, I know my favorite Dole Whip wouldn't be as precious to me as it is now. While it may not be exactly the same, this frozen pineapple whip can certainly tide me over until my next trip to Florida. And even though it is cold out right now, this treat reminds me of warmer times at Walt Disney World. Now, if they would only put these on the Disney cruise ships. After all, Dole Whips are a tropical treat, right?
Are you ready to make your own Dole Whip at home? This is SO simple to make, and my finicky son even ate a bowl of this himself!
Ingredients:
2 Cups Frozen Pineapple
1/4 Cup Milk
1/16 tsp Salt
2 tbsp Sugar
1 tbsp Lemon Juice
Start by putting all the ingredients in the blender.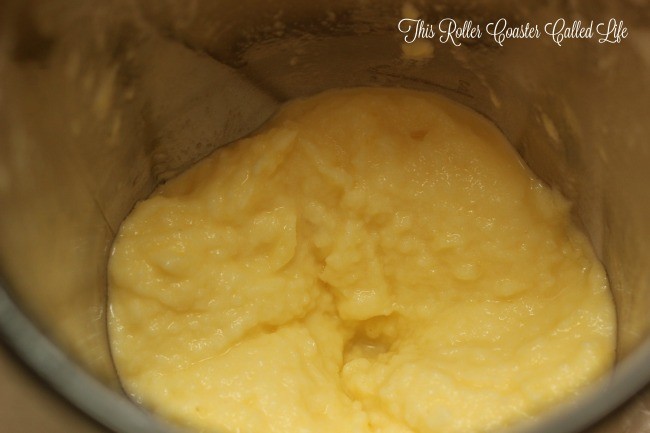 Then, blend until smooth. I found it difficult to get all the large pineapple chunks to blend. I think this might have worked better with frozen crushed pineapple, maybe. However, it did work out find in the long run.
After the mixture is smooth, use an ice cream scoop to move the mixture into bowls. Then, put the bowls in the freezer to become more solid.
It didn't take long in the freezer for the Frozen Pineapple Whip to firm up. Of course, we couldn't wait too long to taste it anyway. The blue bowl was immediately taken by an excited boy right after this photo. The Frozen Pineapple Whip did not last too long, and I'm sure we will be making some more very soon!
Frozen Pineapple Whip
2016-01-31 20:28:38
A great knockoff of the famous Dole Whip
Ingredients
2 cups Frozen Pineapple
1/4 cup Milk
1/16 tsp Salt
2 tbsp Sugar
1 tbsp Lemon Juice
Instructions
Blend all the ingredients in a blender until smooth.
Scoop out with ice cream scoop into small cups.
Freeze for 20 minutes before serving.
This Roller Coaster Called Life https://thisrollercoastercalledlife.com/
---
Here is the map of Magical Blogorail Teal | Easy Disney Recipes at Home Loop: