Welcome to this month's Blogorail Black loop. Today we are sharing some of the best photography apps.
---
My Favorite Photography Apps
I LOVE taking photos to capture memories of each trip and each activity. While I prefer using my DSLR for its quality, my DSLR is rather bulky to carry everywhere. It's especially difficult to lug my DSLR when I take the kids by myself to any of the amusement/theme parks that we frequent. It is much easier to rely on my cellphone camera! So, lately, I've been using my iPhone 5 for taking photos.
I used to have multiple pages of photography apps on my iPhone, but what I found is that I used only a handful while the others just took up precious space on the phone. So, I trimmed down the apps to my favorite photography apps that I used regularly.
iPhone Camera App
I have a few camera apps that I like to use, but I think my "go-to" camera app is the app that comes preloaded on the iPhone. I'm not sure why, but I feel more comfortable with it. One of the options of the native camera app that I like is the editing ability within the app.
I took this photo a few days ago from the ferris wheel near Laff Trakk at Hersheypark. Unfortunately, the sun at that time of day was in a very bad position. No matter where I took the photo during the ferris wheel ride, I couldn't get the glare to go away.
I pulled up the photo in the camera app and chose the "edit" option. After choosing the "magic wand" in the upper right-hand corner,
the glare was a little less, and the colors were darker and bolder. There are options at the bottom of the screen to make adjustments manually for those who prefer a little more control.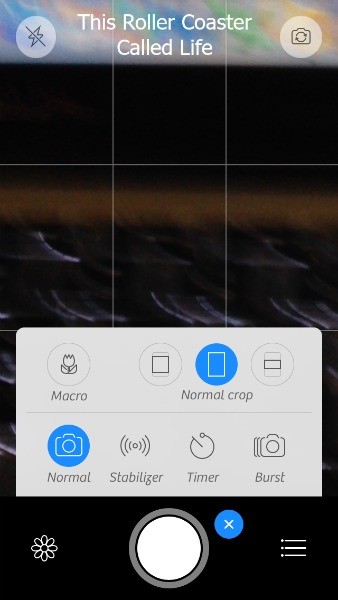 My other "go-to" camera app is the Camera+ app. One of the reasons I like this app is the grid lines to help me line things up. The Camera+ app has the burst mode like the native iOS camera app. I like to use the burst mode to take action shots.
There are many great options in this camera app. Options that I haven't even had the chance to check out. There are two versions of the app: iPhone and iPad. You can check them out on the Camera+ website.
Text on Photo is my favorite app to add text to my photos with. As you can see, Text on Photo gives you different sizing option. You can make your photo 1:1 from the beginning and ready for Instagram.
Once the sizing is chosen, it is time to add the text.
As you can see, you can change font, size, and color of the text very easily. You can add outlines and shadows. It is probably one of the easiest text apps I've used.
Of course, I also use Instagram frequently. I love that Instagram makes it so easy to share my photos across Facebook and Twitter at the same time.
By the way, if you are interested in more information about Hersheypark, you can read some of my posts about Hersheypark here.
One major complaint that I have with using my iPhone as my camera is that it really doesn't do that well with dark and distance. Yes, some camera apps have a zoom, but the photo isn't always clear when the zoom is taken out as far as it will go. Also, I've found the dark to be an issue with just about every camera app I've used.
I can't wait to read what camera apps others on the Magical Blogorail are using! I hope to pick up some new favorites throughout their posts!
---
Here is the map of our Magical Blogorail Black | Best Photography Apps Loop: