Welcome to the next stop on Magical Blogorail Orange! Today, we are discussing freebies at the Disney Parks.
Freebies at the Disney Parks: Park Maps
I LOVE park maps! My kids LOVE park maps! When we go to a park, we usually end up with park maps in ever person's bag and/or pockets. When we get home, we unload the park maps and wonder what to do with them. Besides reading them or sticking them in a scrapbook, there are lots of things that can be done with park maps! Ready to see a few of them?
These are the supplies I started with, but as the day went on, I grabbed a couple more things out of my stash to start yet another project. Are you ready to work on some crafts with park maps from your last trip? Grab your supplies, and let's get crafting!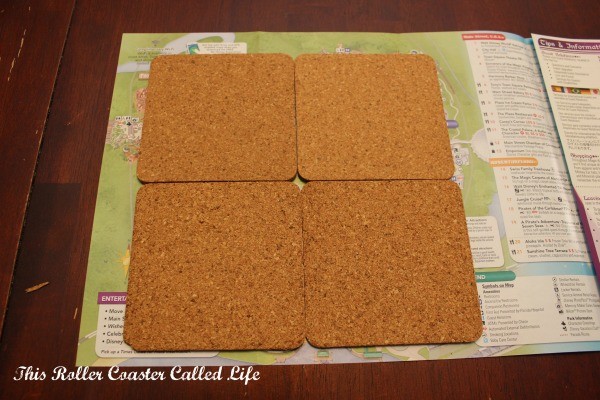 I picked up some squared cork board coasters at our local JoAnns for this project. In the past, I have also used circular coasters, but I thought squares would work better for this time. There are so many ways to create the perfect park map coasters! I could have chosen my favorite area in each park, but I decided to see how much of the Magic Kingdom map I could get on the four coasters. I laid the four coasters right up against each other and traced around the group. Then, I moved the coasters and traced around each one, so I could cut out each section of the map.
Then, I had to trim down each one, so it fit the coaster better. Now, I was ready for the fun part. At this point, my daughter came up and offered to help.
She poured the Mod Podge into a bowl and picked out her paint brush for this task. She painted the Mod Podge onto the coaster and the back of the map piece. Then, she carefully centered the map piece on the coaster. She repeated this for each coaster.
After 2 or 3 coats of Mod Podge, we sprayed the coasters with a couple coats of the matte spray Mod Podge. It was still a little shiny but not as bad as before. Now, we have pretty much all of Magic Kingdom on our coasters. What a great conversation piece!
While the coasters were drying, we started on some magnets. My daughter had already cut out 1 inch circles from the Disney Hollywood Studios park map.
She was very happy to help make the magnets, too. I mean, what is more fun than painting on Mod Podge? It even smells good. She started by painting the Mod Podge on the flat side of the glass bead.
Then, she placed the map circle on the Mod Podge, picture side down. She waited for the original coat to dry before adding another couple of coats.
Then, after all the Mod Podge had dried, she glued magnets on the back. Notice the Mickey head glass beads. I got my Mickey head punch out for the next project and had a few extra map punches. She grabbed those and put them on glass beads. I think they look rather cool that way.
Now, we like the glass bead magnets, but we also made some bottle cap magnets. The cool thing about the bottle caps is that they can be made into all sorts of things from necklaces to keychains just by putting a hole in the bottle cap. We just put a layer of glue in the bottle cap and placed the map circle on top. Also, we had a plastic disc that we put on top of the map circle after the glue dried.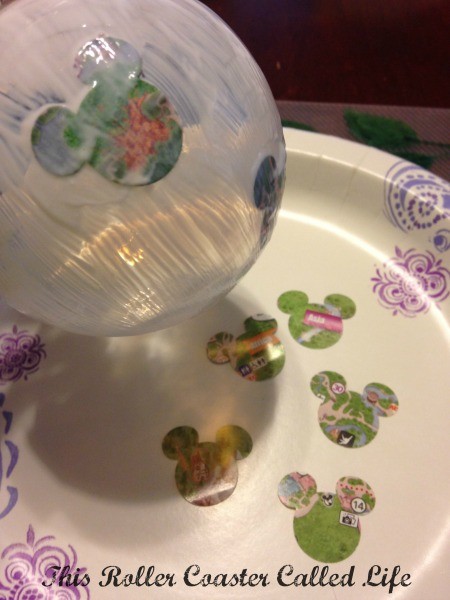 For my last project, I pulled out my Mickey head punch and found a clear plastic ornament left in my craft box from Christmas. I glued a few Mickey head map pieces on the ornament with Mod Podge and then painted a couple of layers of Mod Podge over the entire ornament. After I finished that, I wasn't quite sure what I was going to put in it. I had to head to work, so I decided to stop off at the store on the way. As I wandered up and down the aisles, I stopped in the Easter section…
There I saw three bags of brightly colored "Easter grass". I grabbed all three colors and headed out to work. When I got home, my daughter and I put some of this "grass" in the ornament. It was just what we needed!
What's great is that this ornament is not just for Christmas any more! What a great reminder of trips gone by! I think I will use a few more Mickey head map pieces on my next ornament, though.
I hope your creative juices are flowing, and your old park maps are coming out of mothballs! Do you have any other crafts that you use your park maps for? Please share your park map crafts in a comment!
Thank you for joining Magical Blogorail Orange this month. We will be back in next month with all new loops and themes. Keep checking in with our blogs in between loops to keep up to date with newest posts, photos and stories. If you are looking for more Disney magic, you can make your way over to The Magical Blogorail website to see all our members and their blogs, as well as all our previous loops.
Here is the map of our Blogorail should you happen to have to make a stop along the way and want to reboard: