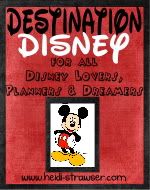 I came back home from vacation sorely behind and had to do some real prioritizing.  Unfortunately, the Destination Disney meme that I like to link up with was one of the things I had to put on the back burner, so now, I get to play catchup.  Since, the "N" and "O" things are a little more difficult to find, combining these three letters will work out well.
Heidi has a new bloggy look that I hope you will check out.  Her blog is now named, "What's going on in… Heidi's Head".
Without further ado, I'll start right in on the photos…
On any trip to Disneyland or Walt Disney World, my family has to see Minnie Mouse and Mickey Mouse.  We have only seen them interact together a handful of times, so it is always special to see them together on those few times.
The Matterhorn is always a welcome sight at Disneyland.
My family loves to ride the Monorail.  While it is not necessarily needed as a mode of transportation in Disneyland, it sure is nice to ride to get a good view of the parks and resort area.  Now, why couldn't they build a Monorail system between my home and Disneyland?
DS8 loves to stop and "talk" to Lightning and Mater.  This is evidenced by the three stops he made during our last trip to Disneyland.
Here is the Neptune sub from the Finding Nemo Submarine Voyage.  This subs are quite dark and closed in, so if you get claustrophobic, you might want to watch the alternate experience.  DS8 gets nervous every time we ride the subs, but he still wants to experience the attraction from "below".
Here we have the new starspeeder in the new Star Tours attractions.
Here we have the old starspeeder in the old Star Tours attraction.  Yes, this was a request from DS8…
I'll finish off with DD12's new favorite downtime thing to do… Listening in on the party line on an old phone.  I grew up with a party line (only because I lived in the middle of nowhere), so it is nice for DD12 to actually see/hear what a party line was like.