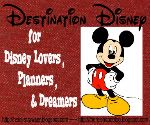 I'm joining with Heidi on Reviews & Reflections to write about my children's favorite Disney memories.  It took a couple of conversations to get the kids to really think about it, but I think we have it nailed down!
Several years ago, Don and I were in that "sandwich generation" dilemma of caring for a parent on hospice while caring for our children.  When we were given the opportunity to take the kids on a respite trip, it didn't take long to choose where to take them.  We went to Disneyland.  This is where DD11's favorite memory of her first walk through Sleeping Beauty's castle and into Fantasyland occurred.
DS8 had no problem deciding what his favorite memory was!  His favorite memory just happened a few weeks ago when he and I were able to ride the revamped Star Tours during a Disneyland preview event.  He said his favorite memory was riding the new Star Tours for the first time.  Since there was no photography allowed in the Starspeeder, I will leave you with a picture from the queue.
Those are our children's favorite Disney memories.  Please share your favorite Disney memory, too.