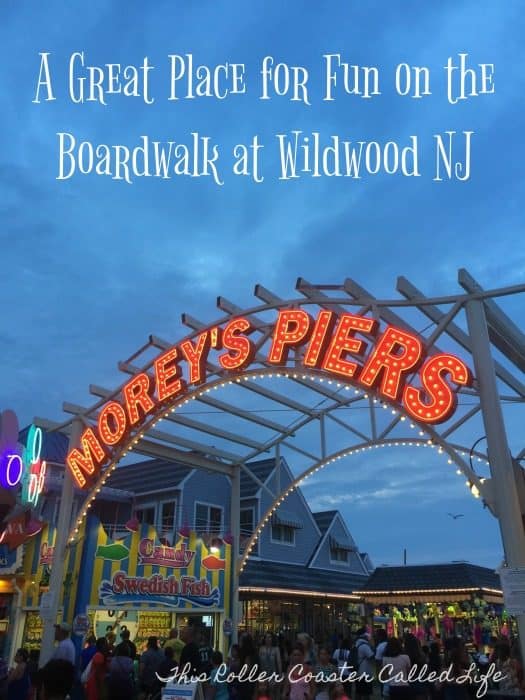 Fun at Morey's Piers in Wildwood NJ
Last weekend, the family travel vehicle headed off toward Morey's Piers at the beach in Wildwood NJ. As we hadn't been to a New Jersey beach before, this was going to be an adventure for us. There are so many things to do within a 3-4 hour drive of Southeastern Pennsylvania, and it's nice to get the chance to experience a few of them as a family.
[FTC disclosure: We received a night's lodging and tickets to help facilitate our trip. All opinions of our experiences of our adventure are our own.]
Being that it is July, there were quite a few vehicles heading in the same direction as we were, so our map program rerouted us a few times. In a way, I was kind of glad it did as I think we saw more of the back roads as we got closer to the beach. While the drive took longer than expected, it was just the beginning of the adventure ahead of us.
After we arrived at our motel for the night, we headed up to our room to check it out. Now, keep in mind that staying at the beach is a little different than staying at many other destinations. Many of the lodging options are motels, and they are more of the "Doo Wop"-style motels of the 1950s and 1960s. Morey's Resorts are comprised of five different properties in town. We stayed at the Starlux Boutique Hotel. NOTE: For those of you who are bringing children, please note that the rooms at this location do have exterior entrances. The room doors do not open to an enclosed hallway, so if you have any "wanderers", make sure to bring whatever device you use to make sure your "wanderers" don't take their own adventure without you.
Now, let's move forward with a tour of the Starlux. As you can see in the picture collage above, we stayed in room 212. 212 is a two bedroom suite, and I must say that this would be an awesome place to stay for a week's vacation at the beach! There was a bedroom with one queen bed and a bedroom with two queen beds. The kids were happy to have their own beds and not have to share! There is also a bathroom. There is not a lot of storage space in the bathroom, but with two bedrooms right across from it, it was easy to scoot across the hall to get ready after a shower.
The rest of the suite was such a great space for a family vacation! The couch is actually a sleeper sofa, so if everyone was willing to get cozy, you could fit 8 people in the suite. There was a nice kitchenette with a huge refrigerator, and they even provided utensils and dishes. There were three TVs in this suite, and DVD players. What a great place to come back to and watch a movie or just rest during the heat of the day when the kids are tired. If we had stayed longer, we would have put the DVD player to good use as Marvel Boy brought his favorite DVDs along. Alas, we were fitting our fun in between storms and didn't have a long block of time for watching movies. The 2-bedroom suite also comes with its own private balcony. Our balcony looked out over the mini-golf (discounted rates for Starlux guests) and out toward the beach.
There are truly a lot of amenities at the Starlux. The pool and hot tub are great! Do you see that glass building in the middle left photo above? The picture to the right of it shows what is in it. It is a lounge to sit and read or just hang out with family and friends. They also have grills for guests to use while staying there. This is truly a place to go and unwind!
After we unpacked, we changed into our swim suits and coverups, and then, we headed over toward the boardwalk. We couldn't wait to see all the fun things that Morey's Piers had in store for us. We picked up our armbands at the Adventure Pier and headed toward Mariner's Pier to check it out.
Since there was less than two hours before the water parks closed, I stayed with the towels and other things while Don and the kids headed out into the Raging Waters Water Park on Mariner's Pier. There are lockers and places to change; however, we wanted to make sure the kids had as much time as possible playing in the water. That evening, the water parks were supposed to close at 6:30 pm with the amusement park rides on the piers remaining open until midnight. I did say "water parks" because Morey's Piers actually has two water parks. There are three piers: Adventure Pier, Mariner's Pier, and Surfside Pier. The water park we went to is Raging Waters Water Park on Mariner's Pier, and there is also Ocean Oasis Water Park + Beach Club on Surfside Pier.
There is lots of fun to be had at both water parks! From little kids play areas, to lazy rivers, and then on to water slides.
One of the things that Songbird wanted to try out was the Sky Pond Journey. We had never seen a water slide like this before. The Sky Pond Journey is a "one of a kind attraction, riders slide in tubes into 4 different elevated pools as they journey to the final SPLASH". There was a lifeguard at each level to make sure you got down the slide to the next level. The kids really liked this water slide!
It was about 30 minutes until the water park was supposed to close, and I was keeping a close eye on the radar. I could feel the change in temperature and wind as a rain storm that was supposed to bring lightning approached the area. It was going to be a quite a jaunt back to the Starlux, so we opted to choose this time to make a dash for supper. Jumbo's is an eatery on Mariner's Pier that has indoor and outdoor seating. We asked to sit inside. We looked at the menu and ordered. I have to say that "Jumbo's" certainly lived up to its name in sizing… Take a look at that giant slice of cheese pizza and the huge pretzel! Don and I loved the Buffalo Cauliflower! The kids? They preferred the cheese curds.
After the rain passed, we headed out to see more of Morey's Piers. There truly is a wide variety of rides to suit just about everyone. Lots of kiddy rides. In fact, have you ever seen a double-decker carousel? I haven't. Songbird had to ride just to be able to say that she had ridden one. The Tilt-a-Whirl is always a favorite of ours! One of the Tilt-a-Whirls is above on the right. The other one on another pier was like a mermaid's clamshell. It was nice to see variety between the piers. If you are a coaster fanatic, make sure to check out The Great Nor-easter (bottom right photo). It's amazing how they designed this ride around and through the existing water park!
As the evening was getting close, we walked out to the end of Surfside Pier to watch the wave roll in.
This also gave a great view of the other two Morey's Piers in the distance. What a fun variety of things to do here in Wildwood NJ!
We slowly walked back toward the Starlux as it began to get dark. We quickly ducked onto Mariner's Pier to see a few of the rides in the dark with the ride lights on. What a sight! As the next round of storms was heading our direction, we slowly walked down the boardwalk toward the Wildwood sign. The Starlux is only a block or two from the sign.
After taking our things to our room, Don and Songbird headed back out to pick up some ice cream at the mini-golf course to take to our room.
The laundry bag at the Starlux says it all! While we were all either covered with sweat, chlorine, or both, we definitely had a great memorable day at Morey's Piers! Now, it was time to clean up and head to bed. For the next day, we had a few more things we wanted to do and see, but we also had to head home fairly early to beat the storms that would be coming from the direction we needed to head home.
After a great night's sleep, we had breakfast at the Starlux before packing up. The Starlux has a simple continental breakfast, seasonally. After eating, Songbird and I checked out some areas of the Starlux that we had not seen while the guys loaded the vehicle. Then, we headed back toward the boardwalk.
We had walked a LOT the day before, and Marvel Boy looked like he wouldn't be able to handle another day like that. There are trams that go up and down the boardwalk. It is $3 per person each time you get on. However, they had an option that was $6 per person for unlimited riding before 5 pm, I think. We decided to go with the $6 hop on and hop off. We got in the first tram of the day from the Wildwood Crest end of the tram, right after the National Anthem was performed to open the day. We started our day at Surfside Pier with a few rides and wandering around. Then, we hopped back on the tram to go to Mariner's Pier.
We rode a few rides and played a few games. Then, we rode the Flying Galleon to see the pier from the sky. It was a different viewpoint and was nice to see a fuller picture of what all the pier offers. At this point, the heat was really affecting Marvel Boy, and we needed to get him inside. Knowing that he liked Jumbo's the night before, we headed back for lunch. Marvel Boy perked up a little, but we knew that it was time to head back home. We had such a fun time at Morey's Piers that we hope to go back again next year!
NOTE: There are not a lot of places on the boardwalk or the piers to get out of the heat. There are a few indoor eateries but many, including stores, are not air conditioned. I share this because heat is one of Marvel Boy's sensory triggers. We really had to plan ahead here to make sure that he kept cool. The water parks are a great asset in keeping cool, and Morey's Piers does have a guest assistance option. I did not see anything posted about their policy either on signs or on their website, but Guest Services was very helpful in getting us set up. The sightseeing tram made navigating the boardwalk easy and fairly quick. The tram was definitely worth the money to keep the meltdowns lower and make things more manageable.

Because of the heat outside, the TVs and DVD players in the rooms at the Starlux make that a great base for a vacation. There is always the pool for a quick cool down, and the ability to have those favorite snacks ready in the room refrigerator (plus ice cream sales nearby) always seems to keep Marvel Boy on a more even keel.
Disclosure: Morey's Piers provided us with lodging for one night at the Starlux Boutique Hotel and tickets to the rides and water parks. All opinions are our own.