Disclosure: This shop has been compensated by Collective Bias, Inc. and its advertiser. All opinions are mine alone. #OneStopKittyShop #CollectiveBias

Our Cat – The Four-Legged Member of Our Family
Our cat is an important member of our family! She is always a part of most things that we do at home; at least, she makes sure that she is a part of most things… She definitely makes her presence known. Well, that and the fact that my son loves her and keeps a close eye on her. He never wants her to be left out, and Christmas is no different. Both he and his sister always make sure they get Christmas presents for the cat, and they usually choose one of the pre-made pet Christmas stockings full of toys. Not this year… We decided to make Beauty her own stocking from scratch this year.
I mean… After all, how could you not make sure a cat with this look on her face had her own Christmas stocking. I could swear that she thinks she is a human.
We went out to a local craft store and picked up some supplies. We got a large piece of red felt, some smaller white felt, glitter glue, and a glue gun. The glue sticks we purchased said that it would leave the fabric soft, and it truly did. It was a lot softer than the glue sticks I have used in the past.
I folded the large piece of red felt in half. (I did not use all the felt.) I hand-sketched the shape of the stocking with a fabric pencil. Notice that I went right up to the fold. I figured there was no need to cut more than necessary and used the fold as the back part of the stocking, rather than cut and glue more.
Then, I cut out the stocking shape, leaving the right side back uncut.
Here you can see a little better where the back is still together. At this point, I was ready to glue the stocking together.
I glued the sections together a little at a time, rather than running a line of glue all the way around. I found it to line up easier this way.
After I glued the stocking together, I cut the white felt for the trim. See on the right how I left a little extra? I left about that much on each side, so I could glue the sides of the white pieces together. I cut two pieces: one for the front and one for the back.
After cutting the trim, I placed a line of hot glue on both of the long sides of the white pieces and glued one on each side of the top of the stocking, lining each up with the top.
After I placed each of the white pieces, I glued the sides together as above. Then, it was time to do some decorating. Please note that I only used glitter glue as I didn't want any decorations that would come off and cause the cat to choke.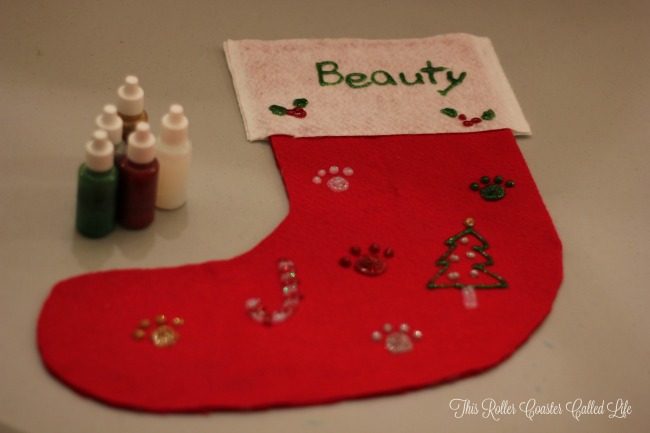 With some fun glitter glue decorating, the cat has her own stockings.
So, as I've mentioned before, I work night shift. When I need to make a quick stop on my way home, I don't want to go to multiple stores for supplies. It is so convenient to head over to my local Giant grocery store to get our food and the cat's supplies.
As you can see, there is a large variety of everything the cat needs here. I LOVE that they have the Tidy Cat LightWeight litter as it is easier for me to grab some on the go, especially when I'm tired. There is also a large variety of food. Look at ALL the variety of the Fancy Feast wet food! It even comes in dry. But don't forget the Friskies treats…
This is what I grabbed the other morning on my way home:
Tidy Cat – I've used Tidy Cat litter for years because it always seemed more convenient, but it now features guaranteed TidyLock™ Protection that locks away odors.
Fancy Feast – Comes in both medleys (premium, high quality ingredients like white meat chicken or wild salmon with added garden veggies, greens or cheese) and broths (combination of delectable silky or creamy broth with real seafood and veggies, without by-products or fillers).
Friskies – I couldn't forget to pick her up some treats, and Friskies had a wide variety.
She was so happy to check it out. In fact…
Check out these "blooper" photos from our photo shoot. She sure was interested in what was going on!
She certainly is part of our Christmas, but we may have to head over to Giant to pick up some other Christmas presents for her from their toy section, now…
Have you checked out the Purina section at your local Giant? Check out the SAVE $2.00 on any one (1) package of Purina® Tidy Cats® brand Cat Litter when you purchase one (1) Purina® Friskies® OR Fancy Feast® Wet Cat Food Item. Be sure to pick up your Giant Foods Savory Magazine for this money saving coupon in stores. This coupon is good through 12/30/16.