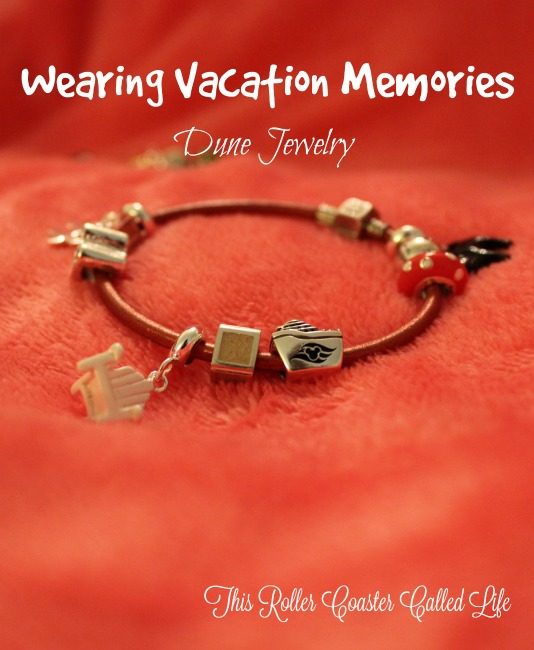 Wearing Vacation Memories – Sand Jewelry from Dune
We love to vacation, and we love to bring home memories. Sometimes, memories are in the form of photos. Sometimes, memories are imprints in our minds that will come up later. Sometimes, memories are in the form of souvenirs that sit out in view at home to remind us of the fun we had. Sometimes, memories are worn. I will not even mention how many t-shirts we own…
Last year, we took an awesome cruise on the Disney Dream! We not only enjoyed the time we spent on the ship, but we also enjoyed the time we spent on Disney's private island, Castaway Cay.
We spent time on the beach. We met Olaf, played in the water, and swam with the sting rays. The sting ray adventure was super cool! We had never done anything like that before, but it was probably the highlight of our Castaway Cay day!
I wanted to find a special way to commemorate and remember our day at Castaway Cay. In my search, I stumbled upon the Dune Jewelry website. Dune Jewelry makes jewelry pieces that contain sand from your favorite beach. Obviously, they can't include every beach in the world, but they do have a whole lot of beaches covered! Do they have your favorite beach in their sandbank?
Anyway, Dune Jewelry sent Songbird and I each a charm to review. She and I have been to a few different beaches covering the Pacific, the Atlantic, and the Gulf. Of all the places we have been, Songbird chose Castaway Cay as her sand choice. Castaway Cay was also my choice.
Songbird chose the Port O Call Charm – Starfish to add to her beach section on her charm bracelet. It was a great addition and will always remind her of her awesome day at Castaway Cay!
I chose the Sandbeach Square to add to my beach charm section. I love that it has a simple understated appearance. It fits nicely between my cruise ship and beach chair charms.
Dune Jewelry has several other sand charms available. Some of their charms work well with other bracelet brands, but several of the charms are specific for the bracelets offered by Dune Jewelry. Dune Jewelry also offers earrings, rings, and necklaces, among other options. Make sure to see what Dune Jewelry has to offer!
Disclosure: We were sent two charms free of charge for the purpose of this review. All opinions are our own.