Hershey Lodge for the Sweetest Dreams on Earth
Hershey PA touts itself as "the sweetest place on Earth", and that definitely extends to the Hershey Lodge. In my mind, Hershey Lodge is definitely the place to stay for the sweetest dreams on Earth. While no one can guarantee great dreams, Hershey Lodge certainly starts your stay out in a sweet way!
When you check in, your party is handed a Hershey milk chocolate bar for each person. This is one of the highlights for Marvel Boy! He can't wait to get up to the room to have that "oh so fresh" chocolate bar! But, Hershey Lodge is so much more than a place to sleep and eat chocolate…
One of the great perks of the Hershey Lodge is the transportation! In fact, we like to come over and check in early in the morning. Yes, I know our room isn't ready, but we can leave our things with bell service, leave the car, and take the bus over to the park. Oh, and don't forget that during select times of the year, Hershey Lodge guests get to take advantage of Hersheypark's "Sweet Start" which gives access to select areas of Hersheypark an hour early. You can read more about Hershey Lodge benefits on their website. Keep in mind that the benefits change depending on the time of year.
As part of the Sweetest Moms, my family recently stayed at the Hershey Lodge. (FTC disclosure: We were given a free night's lodging at Hershey Lodge.) While we were comped one night of our two night stay, we have paid to stay at the Hershey Lodge several times and thoroughly enjoy it every time! On this stay, we checked in and went to our room to check it out. We had gotten a later start than normal, so our room was actually ready. Marvel Boy had his Hershey Bar before we even headed over to the park.
The room was so inviting that I actually wouldn't have minded staying around the resort for a while, but I knew we had something waiting for us over at the park.
The bathrooms at the Hershey Lodge are always so clean. This is one of the few places that I've stayed that I haven't had a complaint about cleanliness. I am very picky about hotel cleanliness, and I'm always pleased here. The shampoo and soap smells nice. In fact, my kids LOVE to use the Hershey Lodge shampoo and body wash. Good thing they sell full size bottles down in the gift shop!
After dropping our things off, we headed back out to our car. Usually, we take the bus over to the park, but today, we decided to take the car. We were planning on spending the day at one of the cabanas at the Boardwalk and didn't want to lug our wet towels back on the bus. Make sure to check out my post about our time at the cabanas!
After a long day at Hersheypark, we came back to find our room turned down for the night. What a great way to head off to dreamland with a Hershey Kiss! Notice the door hanger on the pillows. We were able to pre-order our breakfast room service for the morning. We've found that it is easier and quicker to do room service if we are planning on hitting Sweet Start in the morning. So, we put the order out and headed off to dreamland.
After a deep sleep, our breakfast arrived just as scheduled. The kids had pancakes, and Don and I had House-made Granola and Yogurt with banana pecan bread. I have to say that this is my favorite all time breakfast at the Hershey Lodge. It is so delicious and filling! I can never finish it, but it really hits the spot and prepares me for a day at the parks!
After breakfast, we hopped on a bus and headed over to Hersheypark. It was about half way through Sweet Start, so we breezed through bag check and headed through the gates. Don and Songbird wanted to ride Skyrush. They headed over to Skyrush while Marvel Boy and I headed to Hospitality Services to get his accessibility band in case he needed it. We met up at Skyrush.
After Skyrush, we walked around for a bit before Songbird said she didn't feel well. Skyrush was more "adventurous" than what she should have ridden. She had been begging to ride Skyrush for quite a while now, and we had always said no based on Hersheypark's accessibility guide. The accessibility guide is truly a great guide if you have health limitations! We normally keep Songbird to rides rated as 4 and below with the exception of Laff Trakk which is smooth enough for her. Songbird decided she wanted to lie down, so she and I took the bus back over to the Hershey Lodge while Don and Marvel Boy had a great father-son time riding all the rides Marvel Boy wanted to that Songbird doesn't like or can't ride.
While Songbird was napping, I spent some quiet time out and about in Hershey Lodge. This is my absolute favorite place to relax at Hershey Lodge! I grab a cup of coffee from the Cocoa Beanery and sit back in one of these comfy chairs. It's especially nice in the winter when there is a fire burning in the fireplace.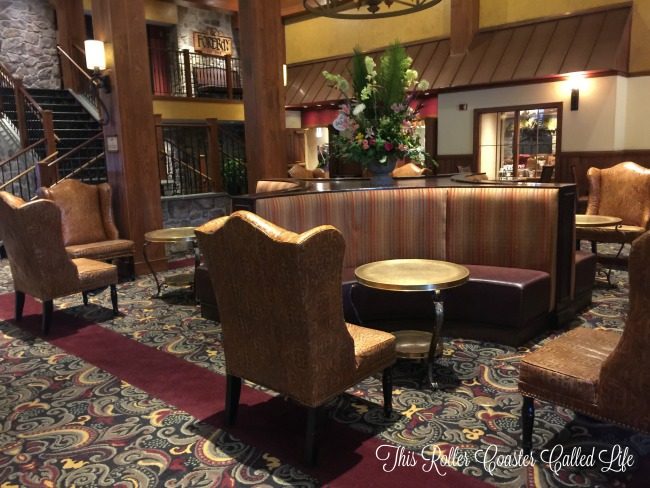 There are also places for groups to sit and spend time together. I've often seen families sitting here or conference-goers with their laptops out working. It is a great relaxing place!
After Songbird had slept for a while and Marvel Boy played to his heart's content, we met up at Hershey's Water Works. This indoor play area is such a great addition to an already fun-filled resort! Don't forget to check out my full post about Hershey Water Works! Both Marvel Boy and Songbird played in the water for a while. I picked up some shakes and snacks at the Cocoa Cabana; since, Songbird had slept through lunch. They both had so much fun!
We rounded out our stay with a late supper at the Bears' Den, one of the Hershey Lodge restaurants before heading to bed. This was such a fun stay, and we can't wait for our next stay at the Hershey Lodge!
Disclosure: I'm a part of the Sweetest Moms. As such, I was provided with one night's lodging at Hershey Lodge and a gift card for food. All opinions are my own. Since I have been to Hershey several times on my own dime, I know what a great place this is, and no amount of "comps" will change my already favorable opinion of Hersheypark and the resorts of Hersheypark!