Beach Place Guesthouses in Cocoa Beach, FL
Yay! I'm finally at the point of sharing last month's Florida vacation with you! We had such a wonderful time in Florida, and I am so excited to share some of the new things we did this year! One of the new things this year was a stay on the beach. We've stayed near the beach before, but this was a totally different experience. If you plan on a trip to the Cocoa Beach/Port Canaveral, FL area, the Beach Place Guesthouses is where you will want to stay. First off, let me satisfy the FTC requirements by letting you know that we given free lodging at the Beach Place Guesthouses in hopes that we would share our experience with you, my readers. If you were following me on social media in November of this year, you may have seen me posting pictures from here on social media. If so, you will know that those were pictures of pure joy and relaxation.
When you pull up to the Beach Place Guesthouses, what you can see looks like it's just an older strip motel. It is in an older area of Cocoa Beach, so it would be easy to think it's just another "cheap" motel. BUT that is furthest from the truth! Just take a look…
After we got out of our car, we headed through this tunnel of branches toward the office to check in. We could tell at that point that this wasn't just any motel, but then…
We came to the courtyard by the office. This place is just like an oasis. Cocoa Beach/Port Canaveral is such a commercialized area, and it was refreshing to get out of the traffic to this serene place.
After checking in, we were led to the second floor of the back building. The name of our guesthouse was Peggy's Tree House. Check out the map of the Beach Place Guesthouses property.
When we entered Peggy's Tree House, it was so much more than what we expected. I was still looking at this as a motel, but it really isn't. This guesthouse has a boutique-style beach cottage feeling to it. There was a full kitchen that looked into the dining/living area of the guesthouse. See that window in the back of the living room? That looks down to the beach!
The first bedroom was right off the entry, and the bathroom was right across from the bedroom door. This is the room that the kids shared.
In the back of the unit was a bedroom with attached bathroom. It was nice to have the two separate bedrooms and bathrooms, not to mention the full kitchen.
We quickly unloaded the car, and I drove down to the grocery store to get supplies for the next couple of days. It was nice to be able to cook our own food for a couple of reasons. First, it was cheaper to cook than to eat out. Second, Marvel Boy enjoyed having his normal food. I'm going to say this here (and I'm sure I will repeat it later), but this is such a great setup for families with kids on the Autism Spectrum!
After I came back with the groceries and put them away, we had a quick bit to eat and then went out to explore. Beach Place Guesthouses is such an eclectic artsy place! The artwork is unique and made especially for this place. The colors of the buildings and sculptures are vibrant. The structure in the upper right picture is an outdoor shower to remove the sand before heading to the room. It was nice to be able to clean the sand off outside, and the sculpture fit in so nicely with the other artwork!
There is a room that was just downstairs from where we were staying that had books and games that guests could borrow while staying there. There was also an African Grey Parrot called Birbal (The Wise One). We could hear him talking several times while we were there. Marvel Boy loved to go in to visit him.
Of course, we came to the beach to relax and enjoy the sandy beach. We did go to the beach. See how close it is to us? Plus, this is a private beach! There were not a lot of people on the beach, and it was nice to have the peace and quiet.
Beach Place Guesthouses provides beach chairs, towels, and some beach toys. We didn't need to bring anything other than our swimming suits. The kids had fun playing in the sand while I took a walk on the beach looking at shells. At one point, Songbird was brushed by a jellyfish, and it stung her a little. Don took her back to the office, and the property manager, Stephanie, had some vinegar to pour over the sting. She even dropped something by our room in case it stung later. We saw that kind of personal service throughout our stay there, and that is a huge part of the draw to the Beach Place Guesthouses! We also learned that pink jellyfish are better than purple jellyfish. This landlubber didn't know the difference in jellyfish…
Back to the photos above. Staying at Beach Place Guesthouses is ALL about the experience! This is an experience that you don't get at the hotel chains down the road. There are several outdoor spaces here that are beyond unbelievable. One of the places we enjoyed was a covered "porch" that had three hammocks on it. It was so relaxing just to lie in the hammock, rocked by the breeze, while listening to the surf. If you look at the top right photo, even the teenager (Songbird) enjoyed spending time in the hammock reading a book on her phone.
Here are a couple of photos of the gazebo I mentioned above. Look at the view!
There are so many choices. Do you want to swing in a gazebo? Have a fire in a fire pit next to the beach? Bar-B-Q your dinner near the beach? The charcoal is provided, so all you need to bring is what you are cooking. Really, if you stocked up with groceries, you could unplug for a long time and not be bored!
At night, Beach Place Guesthouses becomes a magical trail of lights. It is beautiful to walk through the resort and see all the lights. It is quite peaceful, especially sitting in a hammock.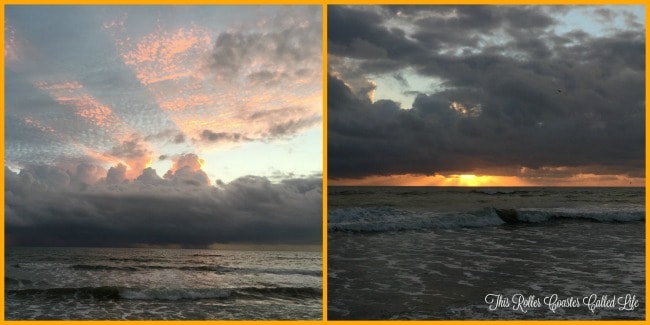 The next morning, Songbird and I went down to the beach to see the sunrise. At first, I was afraid we wouldn't get to see much because of all the clouds. However, we did get to see beautiful rays of light peeking around the clouds. We also enjoyed watching the birds try to find food in the seaweed that had washed up on the shore. It was well worth getting up early, and I'm glad that Songbird (the late riser she is) got up early to spend that time with me.
Later, Stephanie took Songbird and me on a tour of a few of the suites and guesthouses that are available. Honestly, I don't think you could go wrong with any of them, but obviously, I do have a favorite… The suite above and the suite below are two of the smaller suites we saw.
Both the unit above and this unit were located in the front buildings near the road. You can see the property map here. While it is smaller, it still has everything needed, including the kitchen. But honestly, while staying here, we spent most of our time in a hammock or on the beach!
Next, we saw Jeannie's suite. Remember watching I Dream of Jeannie? It was set in Cocoa Beach, so that is what this suite is named after. This suite stood out above the others with the bold colors, but I also love how isolated this suite is. It is located behind the office.
Then, we headed over to the building we were staying in. This is the La Virginia just below and to the left from where we stayed. It was a beautiful beach"y" color of blue, and it had French doors that opened directly to the outdoor areas. Stephanie told us that this is the guesthouse they use for people to get ready for weddings. There is one bedroom but two bathrooms, giving more space for multiple people to get ready. They do host weddings there, so if you are looking for that perfect beach venue, you can check out their wedding information here.
Songbird and I both agreed that our favorite guesthouse is Alice's Garden, and she has requested we try to stay there next year. In Alice's Garden, the second bedroom has twin beds, and Songbird would prefer this setup rather than share a bed with her brother. It also has a washer and dryer. The other nice feature is that the French doors open out to the outdoor spaces, a.k.a. hammocks and beach.
Let's get real! The main reason to stay at the Beach Place Guesthouses is the beach! (Love the rooms, but the beach is what I'm looking for.) The beach is private, and the Beach Place Guesthouses is set back off the road in a less busy area of Cocoa Beach that allows you to get away from the rat race and relax. Would you ever see the beach empty like this closer to Port Canaveral? I don't think so.
Now, about pricing… While this may look like a strip motel from the road, it is not. These are boutique suites/guesthouses on a private beach. Pricing reflects the privacy and amenities that are offered here. Having said that, Beach Place Guesthouses actually has some great specials! We even had a discount for a future stay listed on a card in our guesthouse. Beach Place Guesthouses is located at 1445 South Atlantic Avenue, Cocoa Beach FL 32931. You can call them at (321) 783-4045.
We all highly recommend Beach Place Guesthouses, and we hope to stay there again. It worked out so well for Marvel Boy that we are trying to see how we can fit it in to our plans for next year. The beach and the hammocks were so relaxing for him, and he loved being able to eat food that he would normally have at home. It just worked out well for everyone!
Disclosure: We received free lodging, but all opinions are our own. We just can't get over what a great place this is!