Turkey Hill Experience
When we went to Lancaster County back in September, we finished up our week at the Turkey Hill Experience. We had never been to Turkey Hill Experience, but as lovers of ice cream and tea, we were excited to get the chance to go!
As we drove up to our destination, we saw this cow statue next to the entrance. Next door to Turkey Hill Experience? A Turkey Hill gas station.
We entered Turkey Hill Experience on the ground level to find a gift shop and a counter to purchase tickets. After checking in, we climbed the stairs to the second floor where we learned about the Frey family that started the Turkey Hill Dairy. The Frey family has taken Turkey Hill from a small dairy to a company that sells ice cream all over the country!
There were also displays about cows, the local community, and how Turkey Hill cares for our environment.
Turkey Hill Experience is very much a hands-on experience, and that begins with a display of a Turkey Hill Dairy truck.
There is also a chance to try out "milking" a cow. If you will never have a chance to milk a cow, this is a great opportunity to give this a try! I have milked a cow and goat before, so obviously, this simulator is a little different. However, it does give you an idea of what it takes to milk a cow by hand. Of course, cows on dairy farms are now milked with electronic milking equipment, nowadays.
There are several games/displays that demonstrate different aspects of ice cream production, packaging, and advertising. You can even record your own advertisement.
There are a lot informative displays that show simple things like how important it is to keep things clean. While keeping it clean may seem simple, it is a VERY important part of manufacturing any food product.
Did you know that Turkey Hill uses over 500,000 pounds of cocoa per year making ice cream? That is just a staggering number!
We also did the Taste Lab. In the Taste Lab, we learned more about Turkey Hill ice cream. We also got to make our own ice cream. We were given a container of plain vanilla ice cream. Then, we were able to mix in different flavors and additives. The best part? Afterward, we got to eat what we made!
Something to realize is that you will probably eat a lot of ice cream while you are here. Even if you don't pay the extra for the Taste Lab, there is an ice cream counter where you can get samples of ice cream. Since you can go back more than once, you can really eat a lot of ice cream.
Turkey Hill isn't just about ice cream. It is also tea. I LOVE drinking tea, and I tried several different varieties while I was at Turkey Hill Experience. Did you know that Turkey Hill's first tea was the Orange Tea?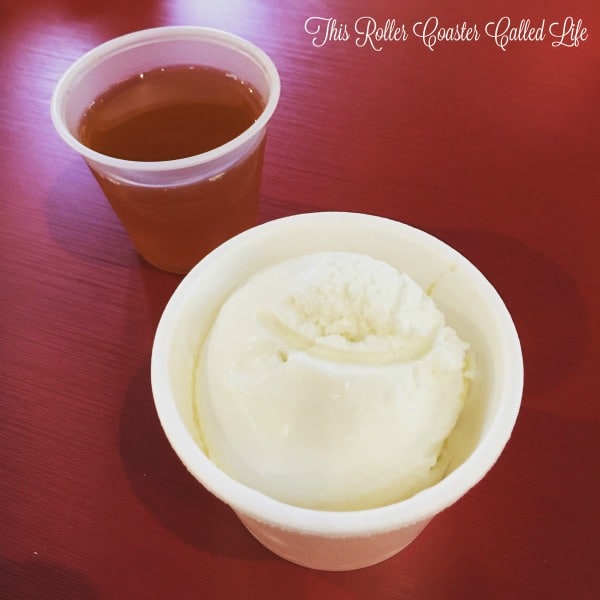 I enjoyed sitting and enjoying samples of tea and ice cream while the kids were off playing games and learning about making ice cream. Turkey Hill Experience is a fun place to learn and a great place for a field trip! Do you like ice cream? Make sure you stop at Turkey Hill Experience on your next trip to Lancaster County, PA!
Disclosure: My family and I were given free tickets to Turkey Hill Experience. All opinions are 100% our own.