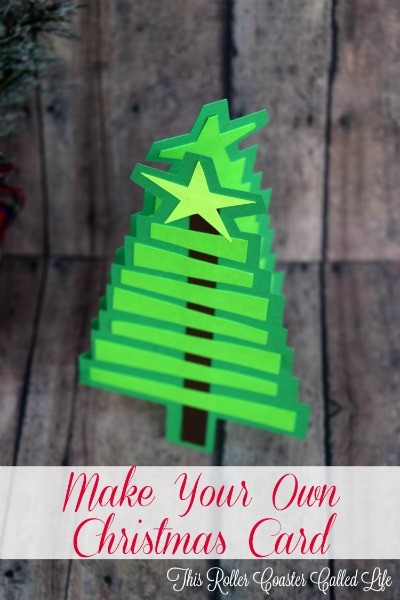 Make Your Own Christmas Tree Christmas Card
It's fun to do crafts for the holidays, and it's a great way to spend family time! Do you send out Christmas cards? Why not make your own this year? Here's a tutorial for making this Christmas tree Christmas card with a Silhouette Cameo.
Supplies Needed:
Dark Green Cardstock
Light Green Cardstock
Yellow Cardstock
Brown Cardstock
Quick Dry Paper Glue
Silhouette Cutting Machine
Directions:
Start by heading over to the online Silhouette Design Store and grabbing the Christmas Tree Cut File for just $0.99. Once you have purchased the design open your Silhouette Studio Software and go to file->library->and double click on your image to open up a new window.
Once the image is uploaded on the screen, you'll notice the image appears across the screen uncolored. (Note: The Silhouette can't print color. It can only cut out images, so most images come up with just an outline.) To play with the file, we need to right click on the screen and select "Release Compound Path". Then, right click again and select "Ungroup". Now, we can freely move the images across the screen which is ideal for cutting in different cardstock colors.
Before I get ready to do cutting, I filled in my shapes with colors that resemble the color of cardstock I'm going to be cutting on, so I know which items to group together. The dark green tree will be one cut, the light green will be another cut, the yellow will be yet another cut, and finally the brown will be the last cut.
Now, it's time to group your like colors together and go over to cut settings. At cut settings, select cardstock as your material and position your blade to a setting of 3. Apply your colored paper to your cutting mat and feed it into your Silhouette machine.
Once your cuts are complete remove your pieces and set aside.
After all pieces had been cut, I folded the green tree card in half on the perforated lines. Then, I took the light green tree and glued it down to the inside of the Christmas tree card.
Next, I folded the card. On the front of the card, I glued down the brown tree trunk first and then carefully started to apply the light green tree strips. I followed the strips with the star.
This project was completed in 20 minutes from start to finish, and it really was a lot of fun. Now, it's time to let the creativity run wild. I kept my card simple, but you can easily add string, twine, rhinestones, glitter, and more to make it more personal to fit your style.
This is such an easy project to complete, and best of all, you can let the kids help out when it comes to assembling. What a great family project and perfect for Christmas! Use the card to give with a gift, or display it in your home as homemade holiday décor.