The Amish Experience
Thinking back to our September "staycation", we learned a lot about our Amish neighbors. We have lived in different places near where Amish have lived, but we never actually had the opportunity to learn more about their beliefs or way of life. We would see them riding in their buggies down the road, but since we didn't live in that town, we never had the opportunity to interact.
When we moved to Pennsylvania, learning more about the Amish was on our bucket list. When we decided to spend our time in September in Lancaster, I searched online and found the Amish Experience.
The Amish Experience is located between Bird-in-Hand and Intercourse, PA on Route 340. It is very easy to find and offers several different things to do on their property. The one thing I was most interested in was Jacob's Choice. Jacob's Choice is show (movie with special effects) that explains some of the traditions, history, and trials of Amish life. This show was chock full of information about how the Amish came to be in America and how teens make their choice to stay in the Amish way of life or leave the faith. I really enjoyed this production and walked away with a new appreciation for the Amish. One thing to note for those with children who are sensory-sensitive: There are ghosts, exploding cannons, wind and rain, and a bell ringing during the Jacob's Choice production.
The Amish Experience has a Magic Lantern from 1890 that they have painstakingly restored. I personally have not seen a Magic Lantern Show, but I sure hope to see one soon! You can read more about the Magic Lantern Shows at Plain & Fancy Farms (the Amish Experience) on their website.
After we saw Jacob's Choice, we took a tour of the Amish schoolroom and house on property there. It kind of reminded me of the time I went to a one-room schoolhouse when I was a kid.
As we looked around the school, we could see evidence of what school there would have been like. Above, you can see the lesson plan for all eight grades. While Amish children only go to school through 8th grade, they do have a challenging course load. When you consider that they learn our English, speak Pennsylvania German at home, and learn "high" German at school; it must be difficult to keep it all straight.
In many ways, the Amish house is similar to ours, but in other ways, it is totally different. Most of us have a pantry of some sort, and…
like the Amish, many of our homes revolve around spending time in the kitchen. However, the Amish had a reason for revolving around the kitchen. This is where their primary source of heat was located.
We also got to tour other rooms in the Amish house and learn how they light their rooms after dark. Many of you probably know that the Amish don't use electricity. In the case of the light above, it is powered by a battery.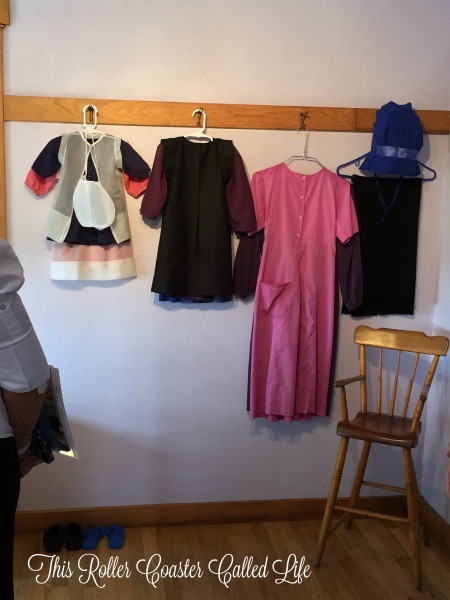 The Amish stay apart by wearing different clothing than we do. In that wayHere is the typical clothing of a girl through the different stages of her growing up.
Here is the typical clothing for a boy, minus the jacket at the end of the photo. That jacket might be something that a teen would wear during their "rumspringa". Rumspringa is when Amish youth (more commonly boys) experience a great time of freedom. I think of it as a time when the Amish youth go out to try things that we non-Amish do to see if they would rather stay Amish or become part of the world.
Then, we saw typical clothing for adults.
Back in the living room, we saw a typical form of lighting that is used by Amish. This was a propane light like you might think of having at a campout. The propane tank was hidden in this wooden case that would actually roll around, making it easy to move from room to room.
Between the show and tour, we learned a lot about our Amish neighbors. One of the other things we learned is that the Amish have a 85-90% retention rate. To me, that is just amazing! What other faith can boast such a high retention rate?
After our tour, we went next door to the gift shop. It is a very large gift shop, and there is also a dining room that serves a traditional all you can eat family style feast.
The Amish Experience also offers farmland tours, buggy rides, and "visit-in-person" tours. Make sure to check out their website for hours and times of operation. If you are looking for a fun learning experience in the Lancaster, PA area, the Amish Experience should be on your list!
Disclosure: My family and I received free tickets to Jacob's Choice and the tour of the schoolroom and house. All opinions are our own.