Hershey Farm Restaurant & Inn
Yesterday, I wrote about seeing Joseph at Sight & Sound Theatre in Lancaster, PA. While we are fairly close to Lancaster, it is still quite a drive to get there, so we planned to stay overnight on our anniversary. Hershey Farm Restaurant & Inn is right next door to the Sight & Sound Theatre and looked like it would be the perfect place to stay.
There are lots of places to stay in the Lancaster area, so there is a wide variety of hotel types to stay at. Personally, I am not always into the whole "hotel chain" atmosphere. I prefer to do more than sleep where I'm staying, and the overall experience and even adventure are more important than just the night's sleep.
We stayed in room 660 in the Amish Farm House. There are a few different buildings that contain hotel/motel rooms at the Hershey Farm Restaurant & Inn. The Amish Farm House was actually a farm house long ago, and it is easy to tell that from the rooms and stairways in this building. It is not your typical hotel room. The complex here ranges from hotel-style rooms to motel-style rooms, so if you prefer an inside entrance, make sure that it what you book.
In our case, room 660 was really more than just one room, and if you have a family and are staying in Lancaster, this room would be an awesome choice! Starting with the upper left photo, we entered the room to this room with two love seats and desk. Up the single step at the far back of the photo, there is a small refrigerator, microwave, and coffee maker. Beyond that is a bathroom followed by one of the two bedrooms. The other bedroom is in the doorway between the two love seats. We loved this room, and I think it would be a great base for a vacation in the Lancaster area!
If you want to make your stay at the Inn a little more special, make sure to check out the extras you can book along with your room.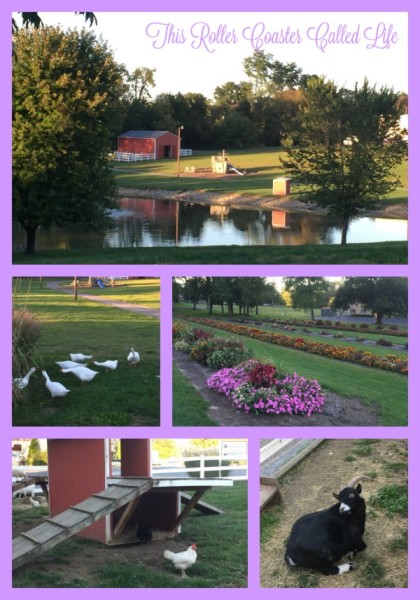 I mentioned experience. The Hershey Farm Restaurant & Inn complex reminded me loosely of a group of cottages. It's kind of hard to explain but almost like a summer camp setting. The is lots of outdoors space to walk and explore. If you have children, this would be a fun area to get out and play and visit the wildlife/farm animals. There is a "pirate ship" for the kids to play in and some farm animals to see and feed, not to mention the flower gardens to walk through. It truly is a beautiful place.
Let's talk food, now. I found it interesting that Hershey Farm Restaurant & Inn has restaurant mentioned first in the name, and that may be because there is no way to forget this restaurant. After driving through Lancaster, you will see that buffets seem to be a large part of this area, along with Whoopie Pies…
We ate supper here in the Hershey Farm Restaurant & Inn, and it is amazing how many foods are part of this buffet! Let me start with dessert because that is where my kids gravitated to first. Marvel Boy started with marshmallows dipped in chocolate from the chocolate fountain. Even the dessert choices seemed to go on forever! I tried shoo-fly pie as I hadn't tried it before, and it was good. If you are not into shoo-fly pie, there are many choices, and there is even ice cream and toppings.
Take a look at the upper left photo. There were so many regular food choices here, even some delicious sweet potato casserole just like mom used to make. There is a bread and butter "bar", and the maple butter was to die for! There are soups and salads and more. If you leave hungry, it's not due to a lack of food choices.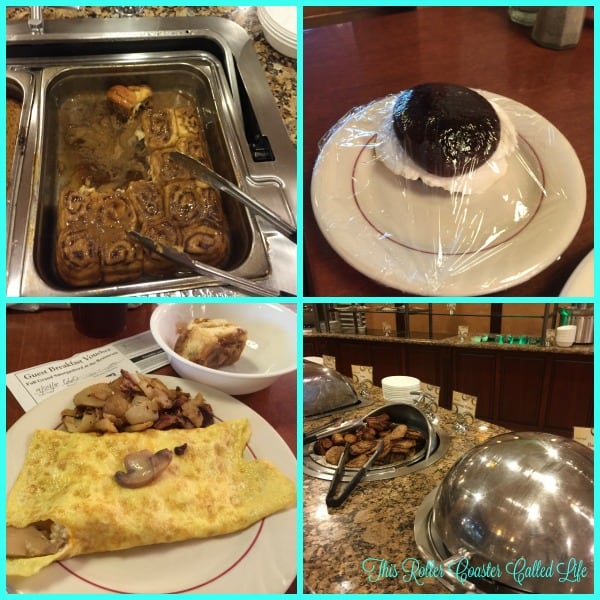 We even went back for breakfast and found the same huge variety of food choices. If you didn't get enough Whoopie Pies the night before, they were at breakfast, too. I personally opted for an omelet and potatoes. Yes, I did have to try the sticky buns, and they were yummy!
If you are not in the mood for a full smorgasbord, they do have a menu you can order from. There is even a "to-go" menu. For more information about the restaurant, make sure to check out all the information on the Hershey Farm Restaurant & Inn website!
My family enjoyed our stay and meals here, and it was very convenient to the Sight & Sound Theatre. If you plan to stay here and see a show at the Sight & Sound Theatre, make sure to ask Hershey Farm Restaurant & Inn about discounted show tickets.
Disclosure: My family and I received a night's lodging at the Hershey Farm Restaurant & Inn along with two meals in the restaurant in exchange for this review. All opinions are mine and my family's.