Star Tours The Adventure Continues
Disneyland closed the Star Tours attraction on July 27, 2010 in order to refurbish (actually, redo) the attraction. We lived in Flagstaff, Arizona at the time and were able to make it out to Disneyland a couple times a year. After all, it was ONLY an eight hour drive.
As it got closer to Star Tours reopening, a contest was announced to allow 1200 people (and one guest each) be among the first to ride the newly updated attraction before it officially opened to the public. Don and I both entered, hoping that both of us might actually win. Obviously, we knew that either of us winning was a long shot. Believe it or not, I did get a spot! I was only allowed to bring one guest. I really didn't know how to choose which child would get to go with me. Fortunately, I didn't have to make that choice. Songbird knew that her brother LOVED Star Tours and suggested that I take him with me.
The day before the event, we picked up Don at work and drove furiously to get to Disney's Paradise Pier Hotel, our home away from home. We made it to bed around 10 pm, knowing that Marvel Boy (8 at the time) and I would have to get up about 2:45 am. The parking lot for the event opened at 3:30 am, so I had decided that we should aim to get to the checkin location before the parking lot opened.
It was so hard to get up when the alarm went off! I pulled myself out of bed, got ready, and worked to wake up Marvel Boy. He was a little testy at first, but as soon as I said Star Tours, he bounded out of bed. He quickly got ready, and we left for our adventure.
When we made it to the checkin location, we were told that we were second in line. I was really surprised because I really had expected some diehards to camp out overnight. We were thrilled to be that close to the front. Promptly at 4:00 am, the checkin process began. We were given wrist bands and directed to another place to line up.
Then, the television crews came. The whole place was crawling with cameras! It was definitely too early in the morning to think of something to say with a microphone stuck in my face. We talked to a couple of major networks, MousePlanet, LaughingPlace, and Disney Parks Blog. Yes, we were in the Disney Parks Blog post about the event. Isn't that wild?
I had taken a bag of tricks to keep Marvel Boy occupied. I had an iPod, snacks, drinks, and his "squishy" toys that keep him grounded. Marvel Boy also talked to the gentleman and his daughter who were in line in front of us. I should have known that there would be lots to keep his attention.
We had the band. The Cantina band. Marvel Boy LOVED listening to their music.
We got to watch the high school seniors there for Grad Nite leaving the park. It surprised me what a long process this was. Finally, the last holdouts were escorted out of the park, and we could see the cast members begin to spray down Main Street.
Nearly, 2400 of our "closest friends" were in line at this point. The line seemed to stretch forever! Imagine that many people lined up in queue to ride a new attraction. Once. Many of us drove quite a ways for this unique experience. While we were lining up in California for the preview event, people were lining up in Walt Disney World for Star Tours to be reopened.
By this time, we could see cleaning wrapping up just inside the gate area. Kudos to the cast members who were on the clean up crew because Disneyland did not look like it was full of high school seniors all night.
At this point, we were led in to just in front of the Mad Hatter shop. Here, we stopped for another few minutes. Soon, we saw three gentlemen in the new Star Tours costumes walk down Main Street toward us. They stopped in front of us, and then they led us to Tomorrowland where we stopped just before the Astro Orbiter. It was here that I learned about Rich (standing in the middle above). Rich has worked at Disneyland for many years. In fact, the only one who has been there longer is Oscar at Carnation Cafe. Rich had his 50 year pin, and he even showed me his 20 year ring.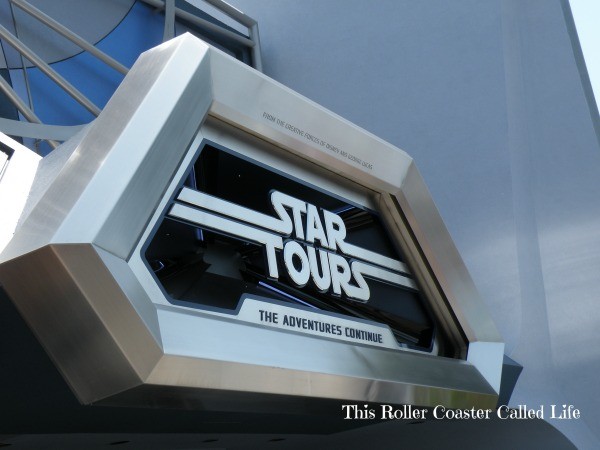 Soon, these three gentlemen led us to the entrance of the Star Tours queue where another cast member took over leading us through the very lengthy queue. That queue length was certainly needed as 2400 people were led straight in. As we wound near the Plaza Inn, I was amazed how the line of people stretched all the way down Main Street. Now, we are stopped before the first entrance into the building. When I did enter this little alcove, I was amazed at how COLD it was. It will certainly feel good in the middle of summer! We were then stopped just in front of the main doors to the inside queue.
With much fanfare, the cast member led us into the main entrance. I heard her instructed to hold up by C3PO so that we could see and hear the entire loop with C3PO and R2D2.
Marvel Boy enjoyed watching R2D2 in the new and improved Starspeeder 1000.
There were many things to see as we wound through the queue. The one bad thing about being at the front of the line is that we really didn't have time to stop and look at everything. Thank goodness there was a soft opening later in the day, so all four of us could ride together and take the time to see all the details. One of the things that Marvel Boy was sad about is that he had heard that poor Captain Rex would no longer be flying the Starspeeder. Fortunately, Captain Rex did have a home, though.
Next, we were led to where the 3D glasses are distributed. We picked up our glasses and waited until just about 9:00 am. At that time, we were taken to our Starspeeder 1000, the first one to fly that day.
The 3D effects and the new destinations were amazing. We went to the Wookie planet and had a Wookie on our windshield. The space battle scene was so real that we really felt a part of it.
The Starspeeder 1000 was a smoother ride than the original Star Tours, but please heed the warnings about riding with neck and back problems. When we all rode together later that day, Songbird said that her neck was whipped around some. Of course, the queue is dark. Marvel Boy had to put on his ear protectors part way through the queue, so if your child has sensory processing issues, please keep this in mind.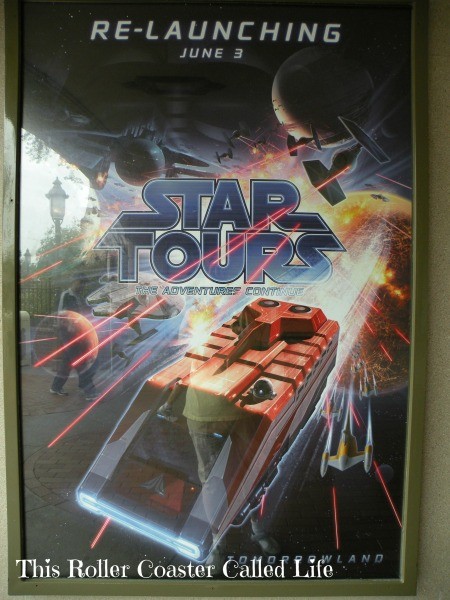 While we liked Star Tours, Star Tours ~ The Adventure Continues was definitely a huge improvement. The reopening of Star Tours is definitely the highlight of our 2011 trips for us and is something Marvel Boy will always remember! In fact, we recently attending the opening of a new roller coaster (Laff Trakk) at Hersheypark, and Marvel Boy talked about when we went to the preview event for Star Tours ~ The Adventure Continues…
Make sure to check out the other posts for 60 Days to 60 Years! The list of all of the participating posts are here ——-> An InLinkz Link-up