Welcome to this month's Magical Blogorail Blue loop. Today we are sharing what you can expect from some of the club level experiences at Disney Resorts and on the Disney Cruise Line.
---
Club Level Beach-Style at Disney's Paradise Pier Hotel
Over the years, I've seen the argument go back-and-forth about whether or not Club Level at the Disney Resorts is worth it. I will tell you that after this one particular stay Club Level at the Paradise Pier Hotel, I'm hooked! Let me tell you why.
The kids and I wanted to go to Disneyland. A lot! So, we decided that an early February trip would be a great time to celebrate Marvel Boy's birthday. We thought it would be a good idea to stay at Disney's Paradise Pier Hotel. We had stayed at the Disneyland Hotel and Disney's Grand Californian Hotel & Spa, but we had never stayed at Disney's Paradise Pier Hotel. Besides, the rates were cheaper there, too. Since I was taking the kids by myself because Don had to stay for work, we tried to think of things that might make it easier to be there with both of the kids. By now, we knew that Marvel Boy was on the Autism Spectrum, and that takes a little more planning, especially if there is only one parent going. Our solution was Club Level. I had already been planning on a Premium View room, so the jump from there to Premium View Club Level was only about $50 per night. We would make that up in breakfast alone, so we booked the room.
Living in Flagstaff, Arizona, we were only an eight hour drive away from Disneyland, depending on traffic. We made that drive several times, but for this one trip, I really didn't want to drive in the city with the kids by myself, so we decided I would take the kids on the train. We booked our Amtrak train trip and included a room to sleep in. Late at night, the kids and I boarded the train and headed to sleep. When we woke up, we had breakfast and got our things together to get off the train in Fullerton. In Fullerton, we grabbed a cab to Disney's Paradise Pier Hotel.
Now, here is where it gets exciting! When we made it to Disney's Paradise Pier Hotel, I went to check in. When they saw I was staying Club Level, they sent me up to the Beach Combers Club for check in. Now, I will say that this is not consistent as the next time we stayed Club Level here, they checked us in downstairs. Anyway, the Beach Combers Club is the Club Level Lounge. It is where a cast member can help you with things like check in and making reservations. It is also where you can borrow DVDs as we did at a subsequent stay.
It is where a continental breakfast is served in the mornings, as well as snacks during the day, evening appetizers, and magical sweets to end the day.
As we entered the lounge, the cast member escorted us in and told the kids to help themselves to breakfast. Even though they had eaten on the train, they still went over and had a few things. While they were eating at the table, the cast member checked me in. He told me that our room was not ready. I really didn't expect it to be because it was still very early in the morning. Then…. He told me that we had been upgraded… to a Family Suite. Squee!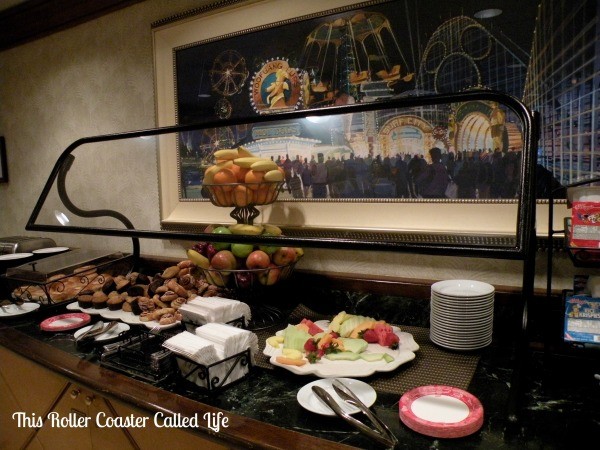 After we were check in, I headed over to check out some of the food.
And coffee! Did I mention it was very early in the morning???
They had a variety of juices and cereal for breakfast.
One of the things the kids liked about the Beach Comber Club was the bendy straws that were long enough to tie into a knot.
There were several tables, a couch, and a computer for those who needed to print tickets. Really, the cast members were very friendly and very helpful! We did hit snacks and/or evening appetizers a couple of the days, but I didn't get any photos of them. One of the complaints that I have about the Beach Comber Club is that it closes (or used to close) earlier than the Club Level lounges at the two other Disneyland Resort Hotels. Because of that, we only made it back for the desserts once or twice. The lounge closed at 8 pm, and we were usually out in the parks or trying to make our way back to the hotel at that time.
When our room was ready, we headed back to this fabulous Family Suite with a large sofa under a huge window with…
a wonderful view of Disney California Adventure Park! Marvel Boy loved this view and the "backside" of World of Color!
The Family Suite also had a table to eat at. We had room service on our "down day" morning, and it was very nice to have the table there.
We had the one bedroom with two beds, but you should have seen the bathrooms…
The really nice thing about the Family Suite is that there were two bathrooms. This was a relatively huge bathroom for a hotel.
And the other bathroom was quite large, too.
For our family who doesn't spend from dawn-to-dusk in the parks, Club Level is a great option for us! If you are one to be at rope drop and don't drop into bed until the last bus or monorail stops, then Club Level may not be the best option for you. With Club Level, if the kids get too hot or tired, we can take them back up to the lounge for a snack or even get a movie to watch in the afternoon.
What are your thoughts about Club Level at Disneyland or Walt Disney World?
---
Here is the map of our Magical Blogorail Blue | Club Level Stays at Disney Loop: