Welcome to the next stop on the Magical Blogorail. Today we are discussing some of the best Disney resorts around the world.
One may think that my favorite Disney hotel would be in Florida. After all, I did spend my final year of college in Orlando. However, my favorite Disney hotel is actually located in the Disneyland Resort (Disney's Paradise Pier Hotel). So many people travel to Florida for Walt Disney World, but I would rather head out to the West Coast and Disneyland, the original park that started it all. The hotels of the Disneyland Resort are the Disneyland Hotel, Disney's Grand Californian Resort & Spa, and Disney's Paradise Pier Hotel.
When you pull up, you can see the hotel has a "beach" atmosphere to it. It doesn't appear overly "Disney" from the outside, but you will find that Disney is definitely a part of this hotel when you go inside.
Like the other hotels of the Disneyland Resort, Disney's Paradise Pier Hotel has an area for kids (and kids-at-heart) to sit and watch Disney cartoons. The Paradise Theater is actually in a separate room and has a very relaxing atmosphere. It's a great place for kids to unwind.
The hallway has a whimsical feel, and the room numbers are placed on little surfboards to keep with the "beachy" motif.
I LOVE the blues and greens and also the beach ball pillows! The rooms have a laid-back feel to them! But wait until you see some of the accents!
I LOVE the Mickey Mouse as a lifeguard lamp! How I wish I could have one of these at home!
You can see the Disney touch in the form of a Mickey head on this surfboard lamp.
But honestly, the best part of this hotel for us is the Premium View room. We have stayed at Disney's Paradise Pier Hotel on three or four separate occasions (pre-Cars Land) and paid for a Premium View room each time. Here is Marvel Boy waiting for the World of Color to begin. (Note: Not all Premium View rooms are World of Color views. They are defined as "Views of the Theme Park")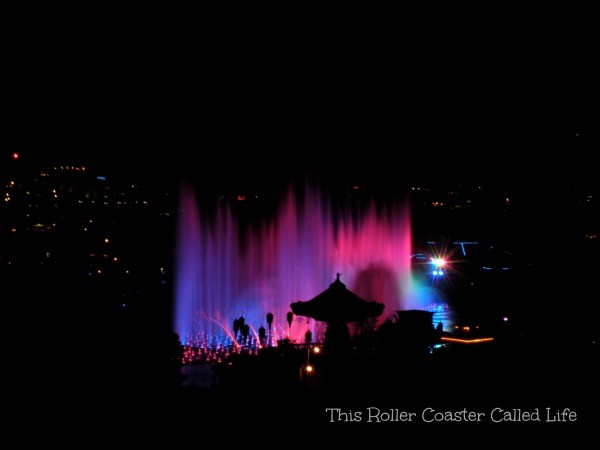 For us, it was worth every penny because Marvel Boy could watch the World of Color without being in the middle of a pack of people and without the loud sounds of the show. We were able to play the music for the World of Color through the television, and he was a happy camper.
The view was beautiful at night! One time we stayed, we actually got to watch them test a new section of the World of Color.
The view is also stunning during the day, too! We are "geeky" Disney fans, so we enjoyed watching cast members walk on Goofy's Sky School during one trip, and during another trip, we actually watched people working on California Screamin'
Another great perk to Disney's Paradise Pier Hotel is the Surf's Up with Mickey and Friends character breakfast! This meal is also our favorite Disney character meal! Here Mickey Mouse and his friends are ready to head to the beach.
We've seen a few different characters here. The most common ones that we've seen are Minnie, Mickey, Stitch, and Pluto. We've also seen Max and Daisy Duck. Keep in mind that characters can and do change.
Marvel Boy loved to get up and surf with Stitch. The character interaction at this meal was always superior to other character meals we've been to.
Disney's Paradise Pier Hotel has some nice, fun, and relaxing common areas. The Surfside Lounge has a nice seating area where you can sit and enjoy a light breakfast, snack, coffee, or cookies. We would pick up a Caffe Mocha to drink on the way home.
Disney's Paradise Pier Hotel has a rooftop pool with waterslide.
The waterslide ends in a shallow pool that makes it nicer for the younger kids. The big kids (and kids-at-heart) like this waterslide, too. Yes, I want on it a few times, too.
At the beginning, I mentioned that this hotel is the furthest away from the parks. It is right across the street from Disney's Grand Californian Hotel & Spa, so it really isn't that far. Our favorite way to hit the parks was to walk across the road and cut through the Grand Californian. I personally don't think it is much farther than walking from the Disneyland Hotel; however, the cheaper cost of Disney's Paradise Pier Hotel is definitely a perk! However, cost savings aside… I love all the light-hearted things and atmosphere that Disney's Paradise Pier Hotel offer!
What is your favorite Disney hotel? Let me know in a comment below!
---
Here is the map of our Magical Blogorail | Special Edition : Best Disney Resorts Around the World Loop: