Welcome to the next stop on Magical Blogorail Green. Today we are discussing the best ways to end a Disney vacation.
The Last Day at Disney: Character Meals
We LOVE our trips to Disney, and it is always sad when the trip comes to an end. The last day is bittersweet because we know we have to leave at the end of the day, so we want to make it our best day! No matter whether we go to Disneyland or Walt Disney World, we always end the trip with a Disney character meal.
At the end of one trip to Walt Disney World, the choice for our last day character meal was Akershus Royal Banquet Hall. My daughter enjoyed seeing the princesses, and I enjoyed having some of the food delivered to the table. It was a nice combination between the choice of a small buffet and family-style meal.
After our breakfast, we decided to take one last run around the "world". Epcot is one of our favorite parks, and it is also a great place to shop!
China is such a beautiful pavilion, and it's always a plus when Mulan makes an appearance.
Remember, I mentioned shopping… Karamell-Kuche is a fun place to stop right before leaving Walt Disney World, especially if you are driving. There is not a better place for a fan of caramel to pick up snacks for the trip home!
Of course, I LOVE to shop at Mitsukoshi in Japan. I don't buy too much there, but I love to just look around.
Then, we grab a snack to eat before heading back to our resort and pack up to leave. It is with heavy heart that we head out of the park.
If you don't want to spend the money for a park ticket on the last day, there are plenty of options for breakfast with characters outside of the parks: 1900 Park Fare, Cape May Cafe, Chef Mickey's, and 'Ohana. Just be sure to make your advanced dining reservations early enough to snag your restaurant preference.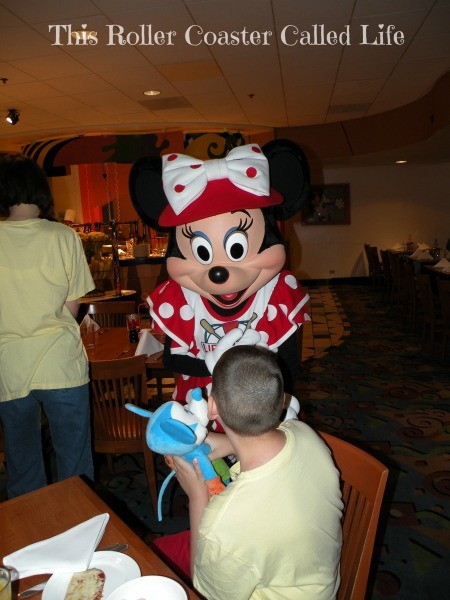 When we are in Disneyland, we also end our trips with a character meal. Our absolute all-time favorite character meal is Surfs Up! with Mickey and Friends at Disney's Paradise Pier Hotel! It is at the top of our list because we always got consistently terrific service and awesome character interaction! I mean, character interaction is the main reason for going to a character meal, right?
Even the teenager enjoyed this non-princess meal! There was also a good variety of food, and both kids had eaten their fill when we left.
Even the adults get in the action at Surfs Up! You never know what is going to happen when Stitch shows up. The times that we went, Stitch would teach kids how to surf, and Marvel Boy had a great time surfing with Stitch!
After eating and loading up, we would take one last trip to the World of Disney in Downtown Disney. When we drive, we usually save our souvenir shopping until last. The bags pack in well between the bags in the trunk or back of the SUV. Then, we sadly head toward our car and head toward home.
If you want to try a different character meal outside the parks, there are two other places to go: Goofy's Kitchen at the Disneyland Hotel and Storytellers Cafe at Disney's Grand Californian Hotel & Spa.
Character meals are a great way to end your trip to the most magical place on Earth!
Here is the map of our Magical Blogorail Green | Best Ways to End a Disney Vacation Loop: