I know it is just the last day of September, but it's almost Christmas! If you are a person who likes to make Christmas gifts for coworkers or friends, now is the time to plan this out. How many people? What are you making? How many supplies will you need? I'm telling you that you can't put this off until the last minute. I did last year and had to search several stores to find all the ingredients I needed! Who could believe that Walmart wouldn't have Tang? Plus the Walmart distribution center was backordered? Wow! Fortunately, we were able to find all the ingredients. I will definitely be planning ahead this year for whatever I decide to make as gifts.
I made this Spiced Tea Mix last year for my husband's coworkers. I personally believe that handmade gifts are best as they show that you care without coming off as "brown-nosing". It's a fine line to walk because gifts during this time of year really need to be from the heart. Really, they need to be from the heart any time of the year. That's just how we roll!
Spiced Tea Mix
This spiced tea mix makes such a great drink for the holidays. It's great hot and even after it has cooled down a little. I love all the yummy flavors of the orange with cloves and nutmeg!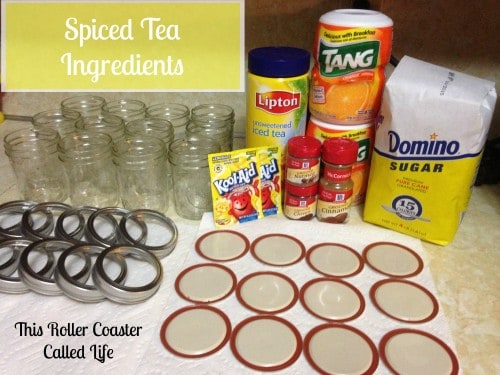 Honestly, I don't know where this recipe came from, other than I kept it years ago after being given a batch myself. At first, I wasn't quite sure what I was going to put the Spiced Tea Mix in for gifting, but after looking around, I decided that mason jars would have a nice appearance. I made sure to wash and dry the jars thoroughly before mixing the ingredients.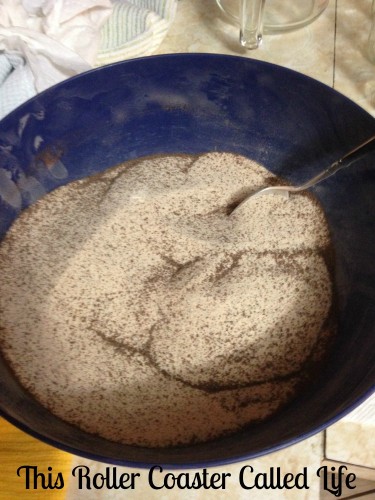 I put all the ingredients (listed below) in a bowl and mixed them well. Please note that I made 2-3x the original recipe to get enough for the jars I was making. As you can see, it never really looks like it is completely mixed due to settling out. However, you want to mix it well because you don't want to take a drink of pure cloves…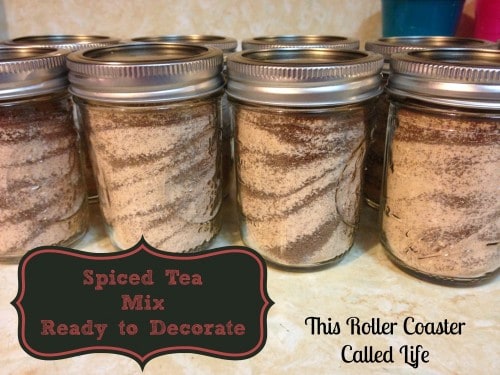 After it was all mixed, I spooned the mixture into jars. I love how the different layers show up! Unfortunately, I didn't take photos of the final product with the tags on the jars. If you wanted to do something like this, you could add a circle of fabric over the lid with ribbon to tie it on. When I make this as gifts, I always include the recipe. That way, if the recipient has allergies, there will be no doubt about what is in the mix.
What is your favorite homemade gift to give?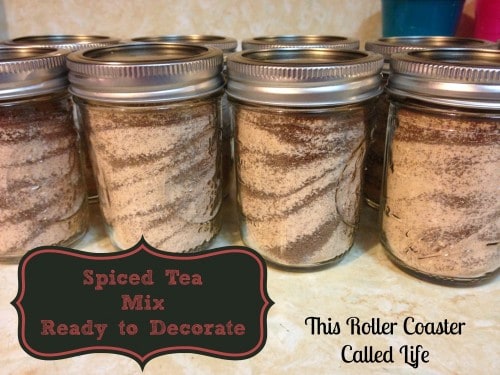 Spiced Tea Mix
2014-09-30 01:19:16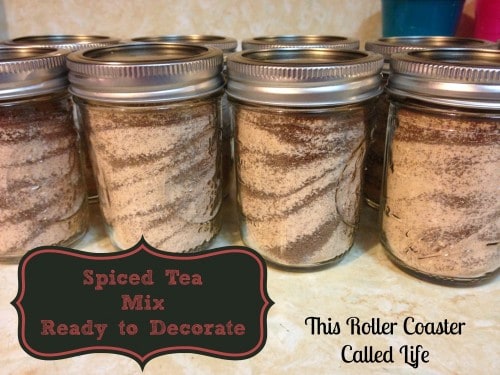 Great holiday spiced tea mix
Ingredients
2 c Tang
1 Envelope unsweetened lemonade
1/2 c Sugar
1/2 c Instant tea
1 tsp Cinnamon
1/2 tsp Nutmeg
1/2 tsp Cloves
Instructions
Mix all ingredients together.
Store in an airtight container.
Add 1 tbsp (more or less as desired for taste) of mix to 1 cup of hot water.
This Roller Coaster Called Life https://thisrollercoastercalledlife.com/
Topic: Spiced Tea Mix