Our family has fond memories of Disneyland! As you may know, we used to live about eight hours from Disneyland, so it was a nice place for a vacation that didn't cost an arm and a leg for traveling there. Well, I guess I should point out that the cost depended on how we got there. If we drove and left very early in the morning, we could be having a late lunch at Disneyland. We also flew a time or two. I think the kids favorite way to get there was by train. We could hop on late at night, sleep on the train, and still make it for rope drop.
When I think of Disneyland, there are a lot of things that come to mind, but one of those things is my all-time favorite roller coaster, California Screamin'. It is actually across the esplanade in Disney California Adventure Park. That park has undergone many changes over the time we spent going there. Unfortunately, we haven't seen all the changes as we haven't made it out there for Cars Land.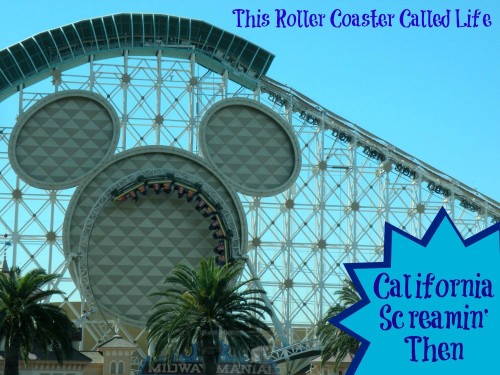 When we first took the kids to Disney California Adventure Park, this is what California Screamin' looked like. This roller coaster reminds me of the old-style out-and-back roller coaster style with a surprise loop addition. Did you know that California Screamin' is the longest and fastest roller coaster at the Disneyland Resort? That's what the Disneyland website says. It also says it is almost 1 and 1/8 miles long.
So, I'm a Disney purist and love the Disney touches on the attractions. When we saw the ear come off the Mickey head, the family was saddened. It was a shame to see that go!
Here's what it looks like now with the sunburst emblem for Paradise Pier on the loop. While we miss the Mickey head there, there is a Mickey face on Mickey's Fun Wheel, so the Disney touches are still there.
Would you like to take a virtual spin on California Screamin'? Check out the video below!