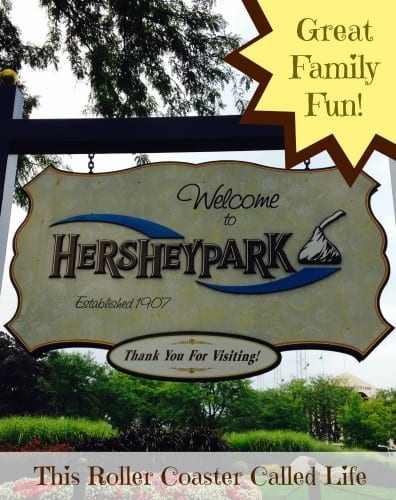 Hersheypark's Accessibility Program
Have you grabbed your cup of coffee (or in this case, hot chocolate)? Let's talk about Hersheypark and their accessibility program! I'm sure that many of you have read about or maybe even experienced the new accessibility program at a certain (non-Hershey) major theme park. I'll be the first to admit that the original program was abused by some people, and a few of those people made national headlines over their actions. However, the resulting program became a "one size fits all" program, and we all know that disabilities come in many different forms. As a result, it is my desire to look at different amusement parks and how they handle their accessibility programs. My family was thrilled to try out Hersheypark's accessibility program this past Tuesday to see how they run theirs! Thank you to the Hersheypark social media team for setting this up and sponsoring our trip there!
We arrived bright and early at the Hershey Lodge to check in and take the shuttle over to the park. We had to wait through 2 shuttles (which came fairly quickly) because August seems to be their busiest month. Note: If you want to avoid the high crowd season, plan your trip for June. We picked up our tickets and headed into the park at about 9:45 in the morning. If you stay in one of the Hershey properties (Hershey Lodge, Hershey Hotel, Hershey Campground), there is early access to select rides and attractions on select dates. So, we headed up toward the first aid station where I was supposed to meet with Laura Woodburn, the Director of Ride Operations. She is also in charge of their accessibility program.
After Ms. Woodburn enrolled my son in the accessibility program, she explained how it would work for him. See, this program is based upon the person's needs. I'll explain a little more about that in a moment. She gave him his band…
and handed him his boarding pass. She explained that this pass would tell us and the ride operators what rides it could be used for. This list was determined from what I filled out on their Attraction Accessibility Questionnaire. You can even print it and fill it out before heading to the park.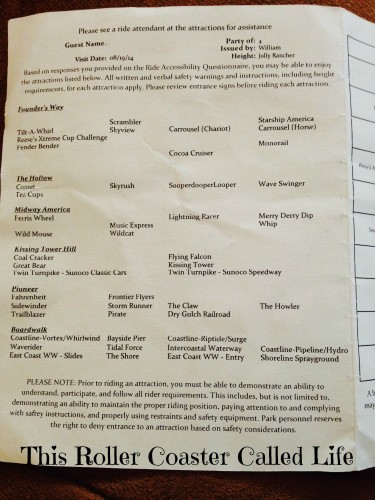 On the inside, you can see the list of rides he was approved for. If you click on the picture, it will expand, so you can read it better. Ms. Woodburn then explained that we would take this to the ride exit and hand it to the ride operator who would check the list and tell us what to do.
On the next page, there is a page for return times. Some of the rides have designated seats roped off. On the Trailblazer, these seats were in the middle of the train. If the rider wanted to sit in a different seat, the ride operator would write a return time on this sheet, and then, the rider would need to return at that time.
After this was all explained, Don and DS11 headed off to try it out, and DD14 and I headed with Ms. Woodburn to her office to discuss the program in more depth. I will admit that other than seeing the joy on my children's faces as they enjoyed the park later, this discussion was my favorite part of the entire trip! I wish I could have videotaped it, so you could see the passion in Ms. Woodburn's face as she talked about her first meeting with a child who was on the Autism Spectrum and how she realized they needed to do more to accommodate children like this. It's not about meeting the ADA standards; it's about treating everyone with respect. Ms. Woodburn said that the parent is the hero for bringing the child to Hersheypark, and she wants the parent to remain the hero by having an enjoyable time. I must point out that Hersheypark has a great deal of experience with Autism as there is a school for children with Autism (The Vista School) in Hershey.
The accessibility program isn't just about Autism, though. It is about making sure that the accessibility of each ride is explained up front, so the expectation meets reality. For instance, if you filled out the form I linked to above and said that you had a prosthetic limb, the rides that you are able to ride are clearly defined. Hersheypark has a computer system in which all of the information about the ride dynamics is loaded. When the information from the filled accessibility form is uploaded into the computer system, the boarding pass will reflect the rides that you are able to ride with your personal condition. In other words, if you have a prosthetic limb, there may be rides that you will either not be able to ride or may be required to remove your prothesis. You can read about each ride in the accessibility pamphlet that is located on the Hersheypark website. I love that there is so much detail about each ride! I also love the ranking system as it makes it easier to determine what rides DD14 can ride. Hersheypark's program is a great mix of customer service and customer safety.
So, what about our experience using the accessibility system? I have to admit that I was greatly impressed! Each ride operator knew what to look at and where to send us. Each one addressed DS11 by name and asked him the questions. They were very accommodating! We also found that entrance to the ride was rather quick; however, if there were other people using the accessibility pass, then there was a short wait. In other words, this isn't always an instantaneous jump on the ride, nor should it be. I felt the accessibility program worked just as it should and made for a much more enjoyable experience when comparing to our experience during our trip in June when not using the program.
I love that Hersheypark is committed to ensuring that those with special needs are accommodated as safety allows and that people with sensory processing issues like those on the Autism Spectrum are able to have a wonderful experience! If you are looking for a great sensory-friendly trip to an amusement park, I hope you will consider checking out Hersheypark! Don't forget they have seasonal experiences for Halloween and Christmas!