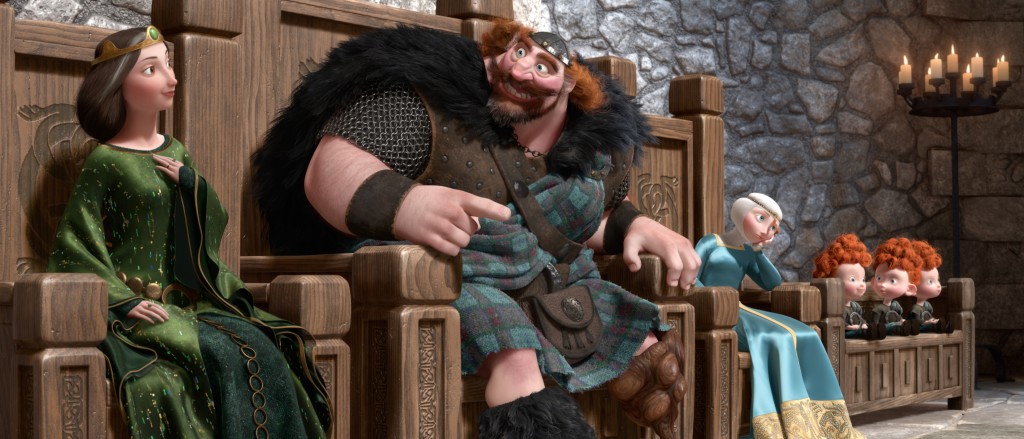 The kids and I have been watching the clips of Brave as they have been released.  The kids watched them over and over again and enjoyed every one.  As we enjoyed them, I would see people online saying how the movie had been ruined.  That they now felt as if they had seen the movie already; however, like in UP, Disney Pixar knew EXACTLY what they were doing.  The clips did not give away the movie and only served to tantalize.
The animation in Brave is just spectacular!  It made me feel as if I were on top of the rock formation right alongside Merida, drinking from the waterfall.  The Scottish countryside seemed to come alive as Merida flew through the woods on her horse.  It really is amazing how far animation has come!
Don't take my word for how great Brave is!  I'll let you read what my daughter has to say about it.
A Movie to Leave You Amazed
Would you ever want your mother to change?  That's what Merida wanted in the newest Disney/Pixar movie, Brave.
Merida is a good archer and a princess in the Highlands of Scotland.  Her mother, Queen Elinor, wants her to get married to one of the competitors in the ancient Highland games, but Merida wants to stay single.  After a fight with her mother, Merida rides her horse, Angus, away from the castle to the standing stones. From there the will'o the wisps lead Merida to a witch's cottage where she wishes for a spell to change her mother.  But, how will she be changed?  You'll have to see the movie to find out what happens.
I though this movie was incredible.  One thing I like is that the story is cool. It was so magical.  I also think that the characters are interesting. The details on their clothes, for example, are amazing.  Finally, the movie is comical. There were scenes that will have you rolling on the floor laughing.
If you are an adventure lover, a magical person, a Scotsman, or none of the above, Brave will leave you amazed.
When DD12 says that this movie is funny, she is not kidding!  DS9 was laughing hysterically at some of the triplets' antics!
You might wonder about the "short"…  While we waited for everyone to find a seat, DS9 asked me if there was going to be a "short".  I was surprised that it seemed so important to him.  As the "short" began, we sat back and watched what, in my opinion, is the best Disney Pixar "short" yet.  I'm not sure that I could really describe it with the detail that it deserves, so I will just say that it is certainly a MUST see!
How many of you are going to see Brave this weekend?