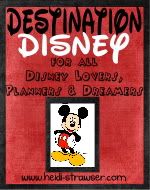 As I said in my previous post, I had returned from vacation to find that I was behind in my posts.  By minding my P's and Q's, I am happy to say that this post will complete my catch-up posting.  🙂
While we were at Disneyland last, we wanted to do something for a friend who is expecting her first child this year.  We knew that she was going to decorate her nursery in a Pooh theme, so we thought it would be unique to have Pooh sign a postcard for her.  We told Pooh why we wanted to have him sign a postcard, too, and he wrote the cutest note to the baby, saying that he couldn't wait for the baby to come out to play with him.  So sweet!
At Disneyland, we went to the "My Disneyland Birthday Party" at the Plaza Inn.  This party was hosted by Pat E. Cake who was later joined by Mickey and Minnie.  It was fun, and even DD12 enjoyed it!
While you are on the Jungle Cruise, make sure you keep your hands inside the boat, so the piranha don't get you.
We ran into Phineas and Ferb's Rockin' Rollin' Dance Party several times near The Little Mermaid attraction in Disney California Adventure Park.  Warning to families with kids who have sensory issues… This show is very loud, and we found that it really disturbed DS8.
This won't be a surprise to my regular readers…  DS8's favorite queue is in Star Tours.  He loves to see the starspeeder and is happy to visit Captain Rex further along in this queue.
DD12 and I got to see the Queen of Hearts during this last trip.  While we were waiting to meet her, the Queen would go over to the lamp to pick up a rose and smell it.  It was quite humorous to watch.
Donald Duck really quacked us up during this last trip.  I always make special autograph books for the kids, using pictures from past trips.  The characters usually spend more time with the kids, looking through all of their autograph pages.  Donald was upset that his picture didn't make it in either autograph book.  He "demanded" that there be pictures of him in our next set of books.  Not just one…  He wants 8 of them.