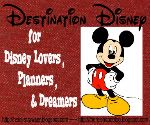 The Disney letter of the week is "G", so let's get started!
One of our favorite Disney "G" words (or names) is Goofy!
Goofy can always make a sad (or tired) face turn into a smile.
Even when Goofy is supposed to be in deep thought, he still makes me smile.
When we went to Disneyland in February, the kids and I went to Blue Sky Cellar to look at the models of The Little Mermaid – Ariel's Undersea Adventure and Goofy's Sky School.  I had to take a picture of this picture because it is "old-school" Goofy!  Note: These two rides are now open.
Do you remember Gadget from Chip 'n Dale's Rescue Rangers?  Well, she has her own roller coaster in Toontown (at Disneyland), and my kids love this attraction.
There are so many unique things about this attraction and the queue.  For instance, Mickey's gloved hand has to crank the coaster up the first lift.
I love the view of Toontown from the top of Gadget's Go Coaster!  If you look on the far right of the above picture, you can seen Goofy's hat on top of his house.
On Storybook Land Canal Boats, we can see the golden tops of the city of Agrabah from the movie Aladdin.  And speaking of Aladdin…
We can't forget the genie in Disney's Aladdin – A Musical Spectacular.  This is our ultimate favorite Disney production of all time!  Our favorite part is when Genie monologues about current events.  He is so funny!