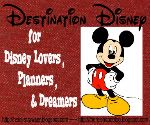 I will admit that I took one look at the topic for this week and panicked.  Do I have to admit my age in this post?
The last time I went to a Walt Disney World water park…  Well, how do I put this?  Blizzard Beach wasn't there.  The choices were River Country and Typhoon Lagoon.  I wish I had been able to go to River Country, but that wasn't to be, either.  Our church youth group rented out Typhoon Lagoon one night, many years ago.  It was a blast running skipping through the water park with friends, long after night had fallen!
I am hoping that I might get the chance to take the kids to one of the water parks next time we are at Walt Disney World.  The only problem is deciding which one to take them to!  Any suggestions?