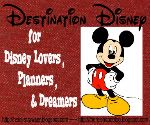 I have felt like I was behind in my blogging all week, but I have finally caught up! I will catch up on my blog reading this weekend.
My last post of the week is to join up with Heidi over at Reviews & Reflections, and the subject this week is my favorite time of the year to go on a Disney vacation.
Can I go tomorrow?  Any time is a good time for a Disney vacation, right?  Well, I do have a favorite time.  I love to go to Disney when it looks like…
…this outside my house.  Because at Disney, I can do this…
…because it will USUALLY be warmer there!
Note:  I avoid holidays.  Slower times work better for us.