I was given the chance to review a set of four books that were written to help students improve their vocabulary before taking the SAT.  Each book is an original story that contains 300 SAT-level vocabulary words spread throughout the book.  Each vocabulary word is bold-italicized with its corresponding definition and pronunciation guide at the bottom of every page.  The goal is to help the students learn words in context.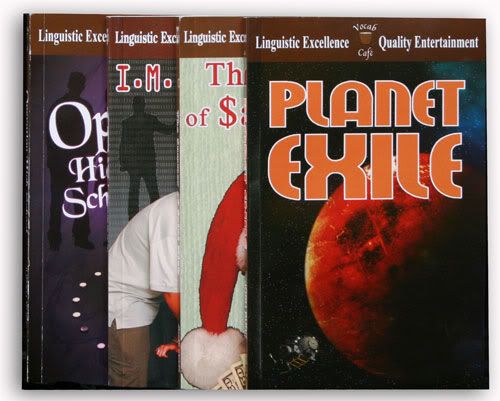 The titles of these 4 books are…
IM for Murder
Operation High School
Planet Exile
Summer of St. Nick
In an email that I received before the books arrived, I received the following warning:
"***A WORD ABOUT CONTENT – These books were written with an intended audience of high school teenagers, although many parents find them appropriate for their middle school or younger students.  As a family-based company, our goal is to make a quality product that can be enjoyed by everyone.  Thus, these stories contain no magic, sorcery, swear words, illicit situations, nor do they encourage negative behaviors.  However, we recommend that parents should read every book that they give their children (not just ours) to make sure the messages coincide with their beliefs and standards.  The VocabCafe Book Series does contain boy-girl relationships (non-sexual), mild violence, and mature thematic elements."
What did I think about these books?  I believe the concept of learning vocabulary words in a reading context is SPECTACULAR; however, I think these books miss the mark.  I found that the vocabulary words seemed "forced", and at times, the words seemed to be used incorrectly or questionably, at best.  In one specific case, the vocabulary word was used as a noun, but the definition said it should be used as a verb.
While the stories are not supposed to encourage negative behaviors, the stories were full of murder, blatant disobedience, and hazing.  The plots are so much different than I have read before, but the subject matter of these books is not what I would want my children to be reading.
The concept is really good, but I think the subject matter has a long way to go.
Pertinent Information:
Product name:  College Prep Genius Vocabcafe

Price:  The set is currently on sale for $38.85.  Normal price is $51.80.  You can purchase these books individually at $12.95 per book.

Age Range:  Middle School – High School (College Prep)

Read other reviews on this product on the Crew Blog Page.

FTC Disclosure: I was given a set of the Vocabcafe series for review purposes as a part of the TOS Crew. Although I was given this product free of charge, my opinions stated above are my own and not influenced by anyone.