I was raised to be very choosy when making decisions about my future.  While I wasn't always shown the proper example, I was taught about God's intention for marriage from a very early age.  Now that I have children, I want to be able to talk to them more about the type of person that God would want them to look for to be a lifelong partner.  For this reason, I was happy when the opportunity to review…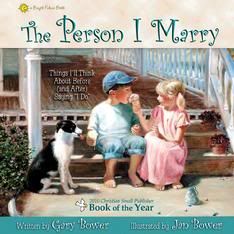 came along.  What a great opportunity to start that "talk" with my kids!
I want to say that I have read the book online, but I have never seen this book in person.  I have been told by another TOS Crew member that this is a quality-built book; however, I can not personally attest to that.  I can only review the words in the book.
I think that what spoke to me most about this book was that it brought out the fact that people should not be looking for just what is on the outside but that what is on the inside is more important.  Is the goal to find a "perfect" person?  No.  The goal is to find a friend that can give and receive.  Well, there are just too many great points to list, so please watch the video preview below.
The Person I Marry from Bower Books on Vimeo.
I'm glad to know that there is a good book with a realistic view of what I would want my daughter to seek for in a husband and my son to seek for in a wife.  If more people would read this book and follow what it recommends to look for in a mate, maybe there would be fewer divorces and more long-term relationships.
Pertinent Information:
Product name:  Bower Books The Person I Marry
Price: The Person I Marry can be purchased on the Bower Family Books website for $11.99.
Age Range: All ages.
Read other reviews on this product on the Crew Blog Page.

FTC Disclosure: I was given a link to an online copy of the book The Person I Marry for review purposes as a part of the TOS Crew. Although I was allowed to read this product free of charge, my opinions stated above are my own and not influenced by anyone.