When I received this book, Educating the WholeHearted Child, in the mail, I knew that there was no way to read all of it before the review deadline arrived.  It has 376 pages.  I thought about choosing a chapter to read and review, but as I looked at the book, I realized that was not a good option.  It did not take much thumbing through to see that I was holding a very special book that is meant to be savored slowly from the beginning and not skimmed for the sake of an overview for a review.  So, I started at the beginning.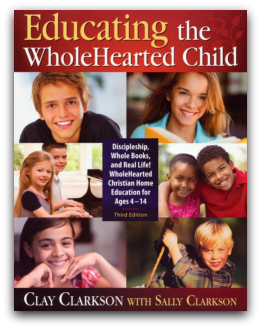 The further I got into the book; the more I realized that I wished that I had had this book when our family began our homeschooling journey.  Is it a book intended to persuade a family to homeschool?  Not really.  Not that families who are considering homeschooling shouldn't read it because they should, but the book is more of an instruction manual on how to homeschool the way the Bible intended.
I started reading this book with a purple highlighter in my hand, and the part that I have read is more purple than not.  There are so many great things in the book.  I want to include a few things that spoke to me, but I also want to let you know that you can go to the Apologia website and read a sample chapter for yourself.
"Even though most of the book is about home education, you cannot really understand that priority without understanding it as one of the three biblical priorities that we believe define a Christian home:  home nurture, home discipleship, and home education.  Each of these three priorities builds upon the one before it and supports the one following it."
"You will reap in your children's lives exactly what you sow in them as a parent.  If you want to reap secure, mature adults, you must sow by the Spirit the seeds of time, togetherness, and training."
"…home education is a gift you give to your children.  You give them the opportunity to experience childhood and growing up the way God intended them to be, all within the context of home and family."
There is so much in this book that affirms our ability to homeschool and shows us the best way to react to those family, friends, and strangers who question our homeschooling.  I can't wait to read the guidance in this book on the "how to educate" my wholehearted children.
The one negative that I saw to this book is that it is not available in any sort of ebook format.  I often have time during the kids' therapy appointments to read some, but I don't have the space to take the book.  I normally read things on my iPhone or iPad, so I have not been able to read this book as quickly as I would like.
Pertinent Information:
Product name: Apologia's Educating the WholeHearted Child
Price: Educating the WholeHearted Child is available from the Apologia website for $22.00.
Age Range: Any parent who does or is considering homeschooling.
Read other reviews on this product on the Crew Blog Page.

FTC Disclosure: I was given a copy of Apologia's Educating the WholeHearted Child for review purposes as a part of the TOS Crew. Although I was given this product free of charge, my opinions stated above are my own and not influenced by anyone.