I'm so excited to write my first review for the TOS Crew!  For my first review, I had the opportunity to review the game, Pig Pile.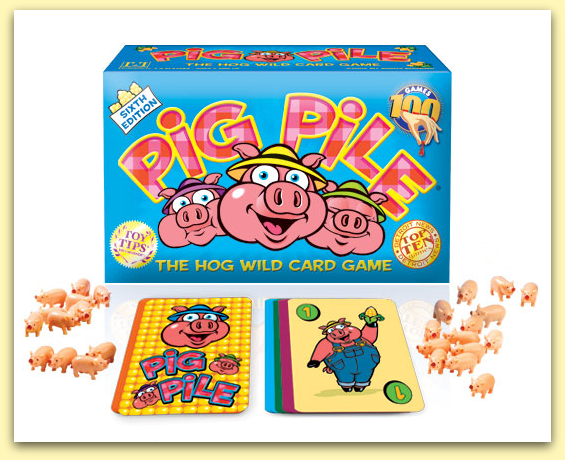 Pig Pile is recommended for ages 7 and up and may very well be a fun game for many families, but we found that it was not a good fit for our family if played per instructions.  The instructions were difficult to follow and really frustrated our son (age 8).  It was especially hard if DS8 had to pick up the entire pig pile, and he really just wanted to get one of the pigs.  It just overloaded him, sensory wise.
When we played this game according to rules with just my husband, DD12, and me, we fared much better.  It was much more fun, but I'm still not 100% sure that we were playing exactly as the instructions stated.  There were a couple of things that my husband and I understood differently after both of us carefully read the instructions.
When we tweaked the game play a little, it worked much better for DS8.  We adjusted the rules so that we didn't have all of the different piles to deal and just dealt a straight 7 cards.  We also made it so that the Hog Wash card (#8) was playable at any point and not just as a #8 card.  We also changed things so that the person who washed away the pile got a pig.  This way DS8 could get his pig sooner.  Instead of the game being a multi-round game, we just played per hand dealt.
This product (cards and pigs) seemed to be of high quality that would withstand much play, and I think that this game would last through many years of family fun.
Pertinent Information:                                                                                            
Product name:  Pig Pile by R & R Games Incorporated
Price:  $15.95
Age Range:  7 and up
Other Products:  R & R Games has several other games available, including Flea Circus.
Special Offer:  R & R Games is offering 20% off any purchase from their website. This offer is good until the end of 2011.  Just use the coupon code CREW20 at checkout.
Read other reviews on this product and Flea Circus at the Crew Blog Page.
FTC Disclosure:  I was given a Pig Pile game to review as a part of the TOS Crew. Although I was given this game free of charge, my opinions stated above are my own and not influenced by anyone.